---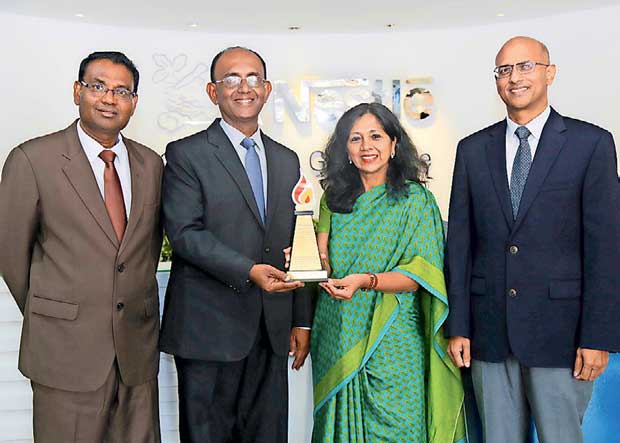 From left: Bandula Egodage, Nestlé Assistant Vice President – Corporate Affairs and Communications; Asoka Kuruppu, NestléAgricultural Services Manager; Shivani Hegde, Nestlé Managing Director and Ruwan Welikala, Nestlé Assistant Vice President - Ambient Dairy
Nestlé Lanka has been awarded the 2016 Swarnadeepa Golden Award for the company's significant contribution to the local dairy industry in support of Sri Lanka's vision of achieving self-sufficiency in dairy.
The 2016 Swarnadeepa Golden Award is a symbol of recognition and appreciation extended to Nestlé Lanka for playing an active role in developing the local dairy sector. Nestlé is Sri Lanka's largest private sector collector of fresh milk and has contributed Rs. 3.6 billion in 2015 alone to almost 20,000 local farmers as payment for fresh milk, to manufacture its products like Nespray, Milo and Milkmaid. The company has also established several milk collection points and milk chilling centers over the years including the recent openingof a new milk chilling centre in the Northern town of Urumpirai, empowering the farming community in the area.
"We are honoured to receive this award in recognition of our efforts to increase local fresh milk production and thereby support Sri Lanka in reaching its goal of becoming self-sufficient in dairy. We will continue to source fresh milk locally and manufacture locally, a commitment we made 30 years ago to the economic development of the country, "said Shivani Hegde, Managing Director for Nestlé.
"This award of appreciation reinforces our mission to make a difference by enhancing the quality of life of the people of Sri Lanka, providing them a regular source of income and nourishing them with local fresh milk products of the highest quality," she added.
Organized by the Nidahas Lanka Mass Communicators Association, the Swarnadeepa Awards pays tribute to individuals and organizations that have 'contributed to the wellbeing of the country'.