---
Binod Chaudhary, who is regarded as Nepal's first billionaire and the only one from the Himalayan republic to be listed on Forbes Magazine's billionaire's list will be the chief guest of the 178th Annual General Meeting (AGM) of the Ceylon Chamber of Commerce.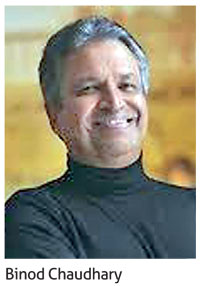 Chaudhary led CG Corp Global Chaudhary Group is a conglomerate comprising over 80 businesses spread across 5 continents and 30 countries including US, Africa, Dubai, Maldives, Sri Lanka, Thailand, India and China. He is a global player in FMCG and is the brain behind Wai Wai, the iconic brand from CG, which has earned him the sobriquet 'Noodle King'
Chaudhary, who has proved that an entrepreneur can do business in Nepal and still emerge as a billionaire, contrary to the popular perception, has controlling shares in the largest bank in his country and own stakes in numerous hotel investments, joint ventures and brands like Taj, Alila, Fern, Radisson and the ultimate destination wellness 'The Farm at San Benito.
An avid trekker and a fitness enthusiast, Chaudhari, who is also a philanthropist currently functions as the President Emeritus of Confederation of Nepalese Industries.
The acclaimed businessman has been a member of Constituent Assembly of Nepal, has been the President of Federation of Nepalese Chambers of Commerce & Industry and had played a role at the World Economic Forum's Global Leader for Tomorrow.
Chaudhary, who has been a Prime Ministerial Adviser in Nepal in the 2000's is expected to deliver the keynote address at the upcoming 178th AGM of the Ceylon Chamber of Commerce. The AGM will take place on June 29th at the Cinnamon Grand Colombo.