---
We all know that Sri Lanka has a steadily aging population. But, have you ever thought about what Sri Lankan's preferred method of saving for retirement is?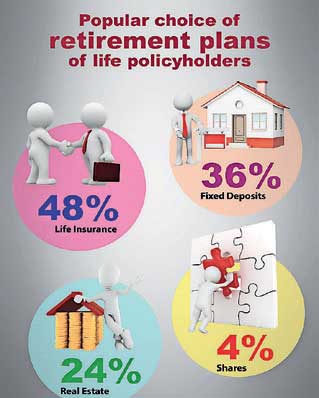 An interesting research conducted by LMRB on Target Group Index (TGI) among Sri Lankan life insurance policyholders attempted to find out just this.
Interestingly, life insurance topped the list with 48 percent likely to opt for an insurance retirement plan. The next most popular choice was fixed deposits while 24 percent thought investing in property was a wise decision. Only 4 percent considered directly investing in shares. Indeed it is heartening for AIA that there is appreciation for insurance retirement plans as a means of retirement income. That is why this October was 'AIA Pensions Months', a month dedicated to make people think about how much they will need at retirement and encourage them to start saving early and regularly.
AIA pensions solutions provides customers an income from their chosen date of retirement for a pre-planned number of years. Another key benefit is that it provides a monthly income for the surviving spouse, even if the insured person passes away during their working life, because AIA continues to pay the premium. This makes sure that their loved one will begin to receive the pension when it matures. This will be in addition to the lump sum life insurance benefit they receive immediately after the insured person
passes away.
So if you are considering a comfortable retirement, then AIA may have just what you are looking for.