---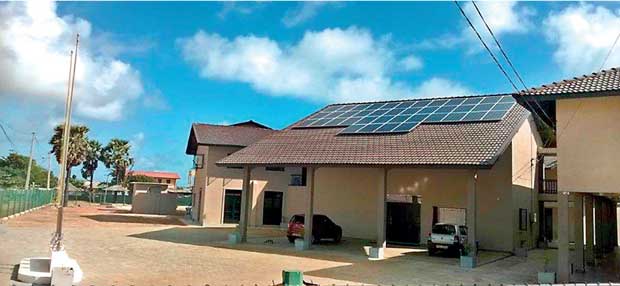 Sri Lanka's commitment towards green energy has gained momentum over the past few years. Contributing to the nation's visionary plan towards sustainable green energy Nawaloka Power Solutions, offers solar and solar powered hot water systems to discerning customers.
The company recently successfully completed a 60kw solar capacity net metering system installation for six circuit bungalows of the Ministry of Public Administration and Home Affairs located in Mihintale, Mulaitivu, Mahiyangana, Jaffna, Polonnaruwa and Katharagama received a 10KW capacity net metering system each, contributing to an overall reduction of its utility costs and a cleaner environment.
Net metering provides a simple and easily administered mechanism capturing the sun's energy and turning it into clean, renewable energy. It contributes to the nation and helps the country reduce its environmental footprint.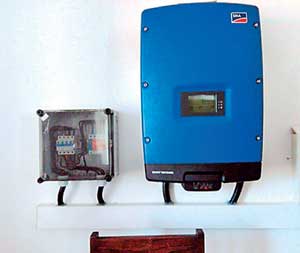 Net metering allows customers who generate their own electricity from solar power to export it to the national grid and utilise the excess power when needed. Consumers are then only billed for the 'net' energy used each month, being the difference between the energy produced by the solar power system and the energy consumed over the monthly billing period.
The net metering mechanism installed at the Ministry circuit bungalows is in sync with Sri Lanka's far-sighted overall strategy of increasing the country's power generation capacity through contributory renewable energy.
"We applaud the Government's initiative to move towards green renewable energy sources and are proud to partner in its plan. Nawaloka Solar Systems has through its net metering solution helped positively impact the electricity costs of the bungalows and contributed to the environment.
We look forward to working with other institutions to continue the growth of renewable energy and its positive impact on the environment," said Asela Mendis General Manager, Nawaloka Power Solutions.
Nawaloka, among the most prestigious brands in the country, and a trusted service provider through its Solar Systems delivers innovative renewable energy products to customers. The Nawaloka Solar Systems net metering mechanism offers customers a timely solution in curbing their rising electricity bills whilst taking the lead through green initiatives.
The system is ideally suited for industrial consumers whose monthly electricity bills continue to increase and are looking for solutions via green energy, as they can take advantage of Nawaloka expertise and save for the future.
Nawaloka Solar Systems offers free site inspection and analysis of monthly electricity consumption, provides technical assistance and a suitable green concept, and undertake all approvals on behalf of the customer providing a hassle free installation with usage instructions.
Compared to other net metering systems on offer in the local market, Nawaloka's trusted after sales service combined with an unbeatable 25 years warranty of the system raises the bar in keeping its promise of creating a sustainable platform well into the future.