---
Plantation Industries Minister Navin Dissanayake will grace the National Chamber of Commerce (NCC) on 'Meet the Minister' programme for an interactive session with the business community on Tuesday, July 12, 2016, from 3:00 p.m. to 4:30 p.m., at the chamber auditorium, No: 450, D R Wijewardene Mawatha, Colombo 10.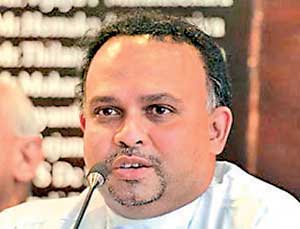 This programme was launched by the National Chamber with the intention of assisting the members and the business community to get current information of the business environment, under the relevant ministry its future plans, present activities and other related issues pertaining to that sector.
This will be an opportunity for the business community to have a close interaction with the minister and other officials from the ministry. The members will also get an opportunity to air their own views/suggestions at the session.
Some of the institutions that come under the purview of this ministry are the Sri Lanka Tea Board, Tea Research Institute of Sri Lanka, Coconut Development Authority, Rubber Research Institute of Sri Lanka, National Institute of Plantation Management and tea, rubber and coconut estates.
The plantation agriculture sector in Sri Lanka, comprising tea, rubber and coconut, continues to play an important role in the national economy and enhance the productivity, profitability and sustainability of the plantation industry. It also promotes new planting in non-traditional areas, implementing research and development programmes and helps in value addition for goods and services and promoting brand names.