---
Sri Lanka's headline inflation measured by the National Consumer Price Index (NCPO) rose 6.1 percent in the 12-months to July, recording a deceleration from 6.3 percent in the month earlier mainly due to a statistical effect of the high base prevailed a year earlier and the slightly eased food prices.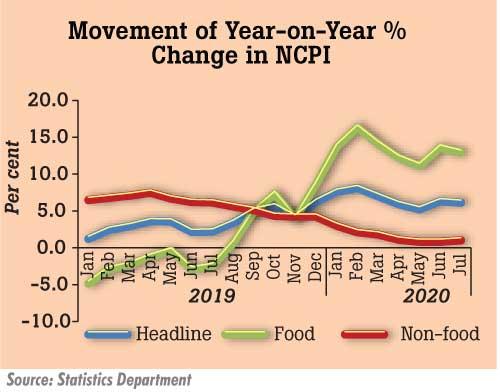 Sri Lanka's inflation measured by both national prices and Colombo prices have remained mostly benign, while expectations also point to further deceleration as economic growth remains well below its potential, which prevents it from generating excess demand and thereby overheating of the economy amid excessive monetary and
fiscal stimulus.

Although the Monetary Board stayed the key policy rates at last week's meeting, it largely remains dovish and took some targeted measures to reduce the caps on regulated interest rates, maintaining its accommodative monetary policy stance.
That was after slashing its key policy rates by 250 basis points in four instances so far this year, of which the last three came in response to neutralise the effects of the pandemic have on the broader economy.

In addition, the Central Bank provided liquidity to money markets and it introduced a Rs.150 billion refinance scheme to provide loans at the concessional rate of 4 percent to the businesses and self-employed to soften the impact they have from the pandemic.

These action stoked inflationary fears among some quarters.

On the contrary, "We should see a gradual deceleration in the National CPI based inflation," said Dr. Chandranath Amarasekara, the Director of Economic Research at the Central Bank last week, a day before the official data was released.

The Central Bank maintains its year-end inflation range at the original mid-single digit levels—between 4 percent and 6 percent— unless there could be a significant supply side shock.
Central Bank's projections point to mild levels of prices until mid-2020, as the "impact of the measures to stimulate economic growth and normalisation of global oil prices could exert upward pressures on inflation," the Central Bank said.

Sri Lanka's economy made a 1.6 percent surprise contraction during the 1Q and authorities expect a deeper contraction in the second quarter as nearly half of the quarter remained closed for normal business.

Meanwhile, the Colombo consumer prices for July showed an uptick to 4.2 percent year-on-year from 3.9 percent in June mainly on non-food items such as healthcare, clothing and transport as people returned to their normal course of activities after ending confinement.

Sri Lanka's national food inflation decelerated to 12.9 percent in July from 13.6 in June while non-food inflation increased to 1.0 percent in July from 0.8 percent in June 2020. Meanwhile, the monthly change of NCPI recorded zero percent in July 2020. "This was due to setting-off the price decline of 0.15 percent in the food category, with the price increase observed in the non-food category by the same magnitude", the Central Bank said.

"Accordingly, within the Food category, prices of vegetables, red onions, limes and rice declined during July 2020, while prices of items in Restaurants and Hotels; Alcoholic Beverages and Tobacco; and Health sub- categories recorded increases within the Non-food category", the Central Bank added.

Meanwhile, the so-called national core prices measured barring the impact of often volatile items such as food and energy, rose to 4.5 percent in July, from 4.4 percent in June, while annual average core inflation decreased to 4.5 percent in July 2020 from 4.6 percent in June 2020.