---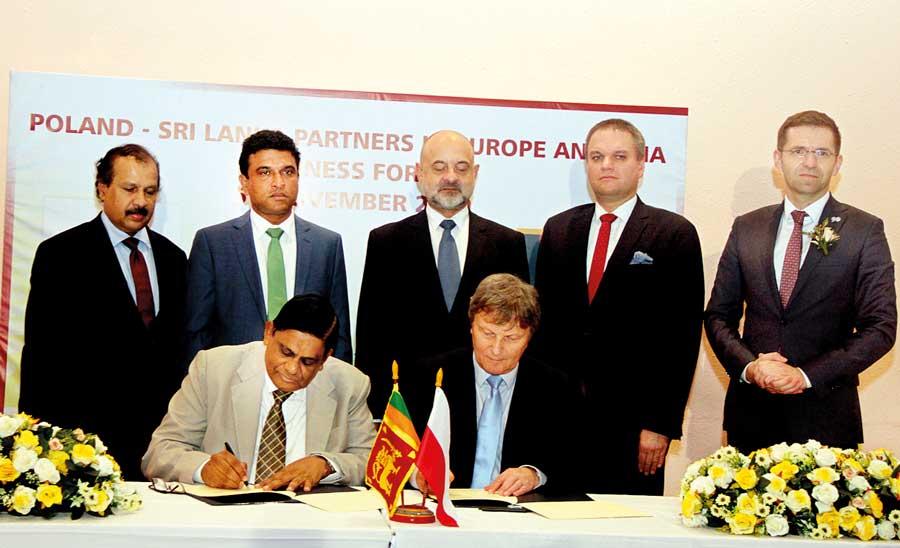 Signing of the MoU between NCCSL President Asela De Livera (Left) and PCC Foreign Relations Department Director Ambassador Jerzy Drozdz (Right). Standing from left: Embassy of Sri Lanka and Poland Ambassador C.A.H.M. Wijeratne, Development Strategies and International Trade Deputy Minister Nalin Bandara, Poland Deputy Foreign Minister Maciej Lang and Ambassador of the Poland Embassy Accredited for Sri Lanka in New Delhi, Adam Burakowski and Polish Airlines Chief Corporate Officer Michal Fijol
Pic by Pradeep Dilrukshana
By Harshana Sellahewa
The National Chamber of Commerce of Sri Lanka (NCCSL) yesterday signed a Memorandum of Understanding (MoU) with the Polish Chamber of Commerce (PCC), to strengthen ties, establish trade and develop economic relations between the two countries.

The MoU was signed at a business forum, organised by the Export Development Board of Sri Lanka (EDB) and Embassy of the Republic of Poland in New Delhi, and was held at the EDB Auditorium, which facilitated EDB officials, National Chamber officials and the Polish trade delegation to hold talks on discerning opportunities for economic gain for both countries.

Members of the Polish Business Mission to Sri Lanka include PCC Foreign Relations Department Director Ambassador Jerzy Drozdz, Republic of Poland Entrepreneurship and Technology Ministry International Trade Department's Lukasz Dajnowicz, PCC Foreign Relations Department Area Manager Bartlomeij Nersewicz, Cenzin sp. z o.o.'s CFO Jaroslaw Zurawski and Sales Department/Proxy Commercial Director Tomasz Bociag, Koltech sp z o.o. President Krzysztof Gawor, Nalewki Staropolskie (Old-style Polish Liqueurs)'s Ksenia Majewska, Polish Dairy's Aleksander Kempinski and "Wawrzaszek ISS sp. z o.o." sp. kom. (WISS Group)'s Export Director Michal Romaniszyn and Export Manager Eddy Coryn.

Addressing the audience, PCC Foreign Relations Department Director Ambassador Jerzy Drozdz said: "The Polish Chamber of Commerce appreciates the help of Sri Lankan partners for facilitating business contacts and B2B meetings between Polish and Sri Lankan companies. We wish fruitful business talks to all participants. Let us hope that the MoU we will sign in a few minutes with the National Chamber of Commerce of Sri Lanka will develop our economic relations in the future."

The signing of the MoU aims to promote Sri Lanka's modernised, business-friendly and high potential atmosphere as the perfect investment location among the Polish business community.

Meanwhile, promotional videos from the Sri Lanka Tourism Promotion Bureau were shown to the Polish delegation, depicting Sri Lanka's potential as the 'island of ingenuity' within the tourism sphere.

Proclaiming Sri Lanka as an integral hub to any country's competitiveness, Sri Lanka was pitched as a business epicentre connecting markets, with digital connectivity assuring ease in transactions and logistical connectivity ensuring speed to the market, in an attempt to attract Polish businesses to engage fearlessly with Sri Lankan businesses.

The EDB also revealed to the delegation about Sri Lanka's market-leading exports, which include apparel, Ceylon tea, rubber-based products, coconut kernel products, seafood, Ceylon spices and essential oils, gems and jewellery and ceramic and porcelain. Fast gaining future-ready exports included ICT/BPM, wellness tourism, boat building and electronic and electrical machinery.