---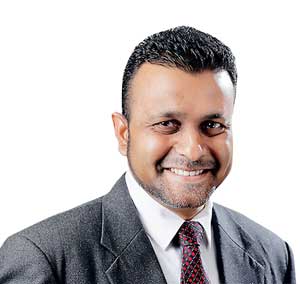 Nations Trust Bank recently partnered with the annual Kedella Exhibition, one of the leading housing and home exhibitions in Sri Lanka that began yesterday at the Kandy City Centre.

Partnering with Kedella, Nations Trust Bank eagerly anticipates the opportunity to become the financial partner to their customers, particularly the Nations Inner Circle members, in realizing their aspirations of a home of their own. Kadella exhibition is a key event in the Kandy city that has attracted a large footfall in the past and has now gained notable prominence. Samantha Herath-Senior Manager, Retail Marketing at Nations Trust Bank joined Daily FT to discuss about the bank's involvement with the exhibition and the benefits that are on offer for Nations Inner Circle members.

What is the objective of Nations Trust Bank in joining Kedella as the main sponsor?
People have different aspirations in life and these aspirations become bigger as they progress. The vision of Nations Trust bank is to help people and businesses achieve today's goals and tomorrow's aspirations. So our role is to be the financial partner who helps the customer realize these aspirations. The purpose of partnering with Kedalla exhibition is to partner the customer in realizing their dream home- from buying a house or apartment to renovating their existing homes or simply buying a piece of land.

The bank will be offering a number of services to the Nations Trust Bank customers who would visit the exhibition. Can you elaborate more on these services?
The members of the Nations Inner Circle will be granted free access to the exhibition. All they need to do is to produce their Inner Circle membership card which is also their debit card at the entrance. They will also be eligible to enjoy a special rate of 14 percent per annum for their housing loan which would be fixed for a period of one year. We will also offer a very attractive floating rate of 15 percent per annum for personal loans and have made special arrangements for our customers to apply for home and personal loans at the Nations Trust Bank stall at the premises. These loans will be approved on-site provided all necessary documents are completed and the loan will be granted within two working days.

The bank will also offer special service for Nations Inner Circle members to increase their Credit Card limits instantly at the stall. This will help them to purchase any item they would like from the exhibition as they would have the required funds immediately. Moreover we will offer them free consultation for home loans at our stall.
How does the bank determine that a customer is eligible for the Inner Circle membership?
The Nations Inner Circle Membership is offered to Nations Trust Bank account holders with a net monthly salary remittance exceeding Rs 75,000 per month or for those who maintain a fixed deposit exceeding Rs 500 000/-.

What are the benefits that these customers receive?
The Nations Inner Circle membership offers a plethora of advantages and benefits to the members. They will be entitled to preferential interest rates on their fixed deposits and loans. They would enjoy a 0.5 percent rebate on their personal loans and Home loans together with 50 percent concessions on loan processing fee. They would also be offered pre-approved lease facility with no processing charges. Nations Inner circle members will also be entitled for a pre-approved over draft facility for their urgent cash requirements. A free American Express Credit card and a Nations 'MasterCard' credit card together with a personalized Nations Shopping Debit card will be on offer for Nations Inner Circle members. Moreover they will enjoy priority services from any of our 93 branches spread island wide along with state of the art digital banking facilities.

The Nations Home Centre is another novel concept introduced by Nations Trust Bank where customers can avail themselves of a number of services and requirements related to housing and home needs. The centre is equipped to provide legal consultation, and other services. Nations Trust Bank has strong ties with leading developers in the country, so the customers can easily obtain information about these developers from the Nations Home Centre.