---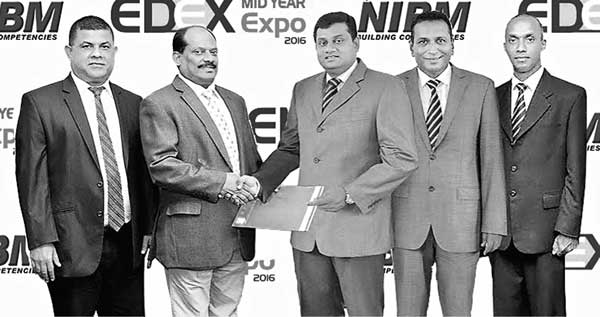 From left – Dr. D M A Kulasooriya, Director- NIBM, Dr. E A Weerasinghe, Director General-NIBM, Nandun Chandraratne, Project Chairman EDEX Mid Year Expo 2016, Kamal Abeysinghe, Chairman-EDEX, Dasun Amarakoon, Project Secretary EDEX Mid Year Expo 2016
The National Institute of Business Management (NIBM) will power this September's EDEX Mid-Year Expo as a Diamond Sponsor. EDEX has built a reputation as the largest and the most comprehensive education and job exhibition in the country.

With a history spanning over 48 years, NIBM is a name synonymous for producing outstanding professionals who have achieved exceptional success in the field of business management, information technology and also entrepreneurs who steer diverse sectors with the professional and academic education they have received at NIBM.

NIBM, which was established in 1968 offers over 30 courses in a multitude
of subjects which are offered as a Foundation Programme, Certificate Course, Diploma Programme as well as Undergraduate Programmes, which are conducted by four faculties; Computing, Engineering, Management and Language. Apart from the various courses offers, NIBM also conducts regular workshops
and seminars for the benefit of its mammoth student population as well as professionals who aim to progress in the field of business management.

The Institute which sees an annual intake of 12,000 students, also has branches along with regional campuses for the benefit of it's student population in Matara, Galle, Kandy and Kurunegala, which are boosted with modern teaching facilities, lecture halls, libraries, computer laboratories featuring the bleeding edge technology, auditoriums documentation centre and even a medical centre which offers health care services for the benefit of the students. The Institute's main campus is located in Colombo 7, which is among the city's most reputed localities.

NIBM's courses enjoy global recognition due to itsaffiliation with leading international institutes. Another testament to its international reputation is the significant percentage of its students working overseas and holding responsible corporate positions across the world spanning all continents.

NIBM is affiliated with the University College of Dublin, Ireland since 1997, which is a leading business education institution in Ireland, and enjoys a ranking as equal to universities with an international reputation. The Institute is also affiliated with one of UK's most prominent and dynamic universities, the University of Plymouth, while NIBM has also collaborated with Limkokwing University, Malaysia, which is recognized as an international university with a truly global presence spanning multiplecontinents and thousands of students from over hundred countries.

The high-quality standards maintained at NIBM have been recognized internationally, with the institute being awarded the prestigious ISO 9001:2008 in 2009. NIBM which was incorporated under an Act of Parliament in June 1976, was brought under the purview of the Ministry of Skills Development and Vocational Training in 2004.

This year's EDEX Mid-Year expo will be held on 3rd and 4th of September 2016, at the Sri Lanka Exhibition and Convention Centre (SLECC). For further details please contact the EDEX Secretariat at EDEX Secretariat, RCU Skills Centre, Royal College Union, RajakeeyaMawatha, Colombo 7 or call 01124 327 070, or email sales@edex.lk, nibmpro@sltnet.lk More information on the exhibition is available on its website; www.edex.lk.