---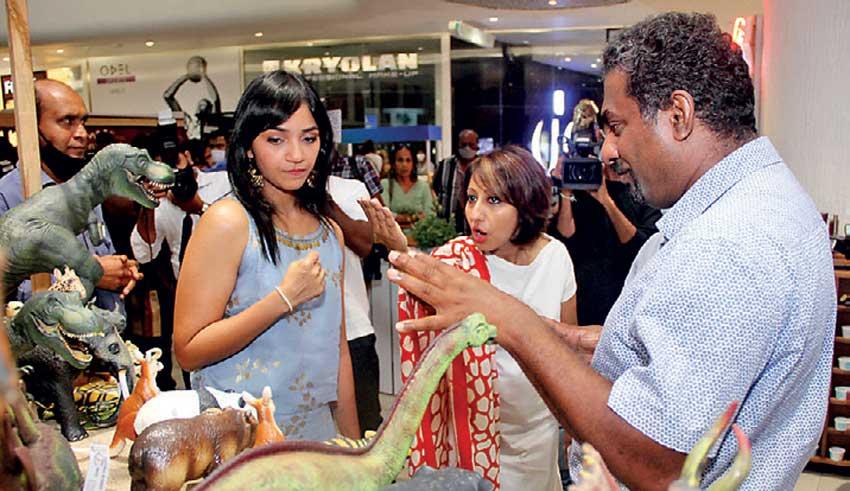 Creative Isle Founder Keshini Ann Suraweera (centre), Former cricketer Muttiah Muralitharan (extreme right) and wife (first left) Madhimalar Muralitharan viewing a stall at the inaugural CAN Market at the Colombo City Centre
Pic by Pradeep Dilruckshana
By Shabiya Ali Ahlam
State enterprise facilitation agency, National Enterprise Development Authority (NEDA) affirmed its commitment to take the newly launched Ceylon Artisan Network (CAN) Market across the island so that budding entrepreneurs are able to effectively launch their products and services regardless of
their location.

"Over the last few months a number of efforts have been taken by the NEDA, and a key initiative is to fuse together entrepreneurial skills, marketing skills and technology so the competitiveness of the newly established businesses is increased," NEDA Director Lakshman Wijewardana said during the opening ceremony of the CAN Market in Colombo last Friday.

"The CAN Market is an out-of-the-box solution that contributes to this effort and we are looking to spread this concept to other parts of the country," he added.
The CAN Market is a multi-stakeholder initiative that supports micro-entrepreneurship across the island. Currently, the weekend market is held at the Colombo City Centre (CCC), bringing small and micro businesses from all around the country to a single platform.

Wijewardana added that by expanding the scope of the CAN initiative, key issues faced by entrepreneurs, which are to find affordable space to showcase their products, and market them effectively, are being addressed.

"With the launching of CAN the burning issue of marketing the goods of upcoming entrepreneurs is being solved. More can be done and for that we need the more established businesses to extend their support as well," Wijewardana said.

Reflecting similar sentiments was former cricketer Muttiah Muralitharan who graced the inauguration of the CAN Market as the chief guest.

"In business you have to give opportunity and promote businesses to become bigger ventures. It is important for the larger and well established businesses to look at CAN Market for sourcing some product lines so that they too grow," Muralitharan said.

He also stated that following the COVID-19 hit that impacted many businesses and individuals, locals should look to shop more from Sri Lanka brands so that some level of improvement in the economy is achieved.

The CAN Market, which was launched last Friday (28) features vendors from around Sri Lanka showcasing their export quality products at wholesale rates. One of the objectives of the platform is to provide entrepreneurs the opportunity to form new trade partnerships with bulk buyers.

Focusing on sustainable and community-driven businesses, the fair, that will be held every Friday, Saturday, and Sunday at the CCC, consists of home and lifestyle products, fashion accessories, artisan food products, herbal teas, and Ayurveda products among others.