---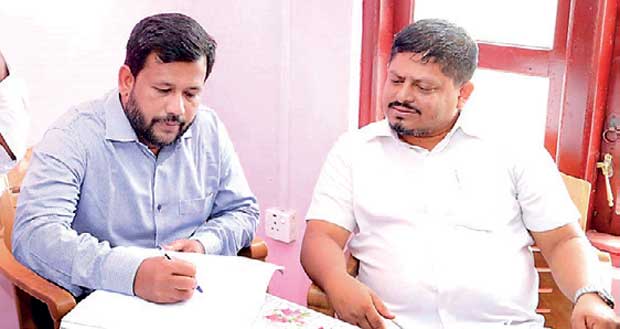 Industry Minister Rishad Bathiudeen signing the guest book at the newly opened Vidatha Centre in Mannar
Sri Lanka's apex State operated entrepreneurship developer, the National Enterprise Development Agency (NEDA), is now on a major youth entrepreneur drive-and the latest node in Sri Lanka's grassroots market linkage network to start operations will be serving the small time young farmers and fisher-folk in Northern Province's Mannar district.
"We encourage our youth not to be a burden on the public resources," said Minister of Industry and Commerce Rishad Bathiudeen. Minister Bathiudeen who is also a Vanni district MP, was addressing the inauguration of the Vidatha Resource Centre in Museli, Mannar on March 16, joined by State Minister of Technology & Research Lakshman Seneviratne.
"The National Enterprise Development Agency (NEDA) under our Ministry already works with Vidatha. There are many informal partnerships between Vidatha offices and our NEDA field network. I thank the State Minister of Technology & Research Lakshman Seneviratne and his Minister Susil Premajayantha for not only support extended to NEDA but even Mannar District development," said Minister Bathiudeen, and added: "As per the youth development vision of the Unity Government of President Maithripala Sirisena and Prime Minister Ranil Wickremesinghe, we are working on providing one million jobs, with least burden on State resources.
We encourage our youth to be not a burden on the public resources and therefore greatly support them to commence in entrepreneurship. NEDA under my Ministry is working on serving this aim and its graduate entrepreneurship project the "Upadidharee Vyavasayaka Udaanaya" is a major project. In this project 215 graduates have been introduced to technology based new SME start-ups at a cost of more than Rs 32 million. 13 graduates from the total 215 are selected from North. The importance in this project is that proposals submitted by youth are evaluated on models of viability and financing potentials. More importantly, the businesses encouraged are new technology based. I encourage graduates of Mannar and Museli area too to join this programme. The Vidatha centre launched today can help Mannar and Museli youth in farming and fishery sectors to link to main markets using latest technologies."
State Minister Lakshman Seneviratne said that Vidatha's vision is to empower grassroots. "The Vidatha programme started in 2004. It is to boost the rural economy and enhance its contribution to national development" added Minister Seneviratne.
To-date, more than 260 Vidatha Resource Centres (VRC) covering the entire island are in operation representing 80 percent of the total number of DS divisions of the country.