---
National Development Bank PLC (NDB) joined hands with the National Chamber of Exporters as a Premium sponsor for the Annual National Chamber of Exports Awards for the eighth consecutive year.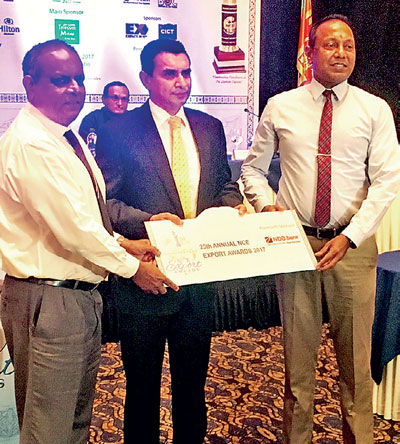 Commenting on the sponsorship, NDB Assistant Vice President Corporate Banking Amal Yapa said, "NDB is privileged to partner as a Premium sponsor of the 25th Annual National Chamber of Exports' Awards. Our sponsorship for the Most Outstanding Exporter sector wise – Gold award at the NCE's Annual Award Ceremony is a reiteration of our commitment in recognizing and rewarding the fruitful efforts of our very own entrepreneurs in taking local products to overseas markets."

Given the importance of the export sector to the country's economy, NDB places a high level of emphasis on developing the emerging exporters of Sri Lanka. With this in mind, NDB has pioneered many initiatives to comprehend and fulfil the specific financial needs of exporters.

The bank has devised customized exporter financing tools especially for key industry segments such as tea, apparel, rubber-based products, etc. The bank has been very flexible in terms of export finance facilities to support the growth of emerging exporters from segments such as spices, cinnamon, ornamental fish, floriculture and the like. Not only does the bank provide financial assistance but also encourage and empower Sri Lankan enterprises by opening up new avenues for growth helping them to go global.

NDB was also felicitated by Global Banking and Finance Review, England as the Best SME Bank in Sri Lanka 2017. As a bank dedicated towards national development, NDB will continue to inspire local entrepreneurs to continuously improve on their quality and delivery.

For over three decades, NDB has extended its unwavering support to empower Sri Lankan entrepreneurs towards improving their export potential. Initially as a development bank and now as a fully-fledged commercial bank NDB continues to support the industry. The NDB group's expertise in project finance, capital funding, investment banking, wealth management and stockbroking enable the bank to offer comprehensive financial packages that meet the funding requirements of exporters; in the form of debt, equity and working capital.

NDB remains dedicated to bringing its customers one step closer to accomplishing their lifelong ambitions through the range of services that are accessible through its growing branch network.