---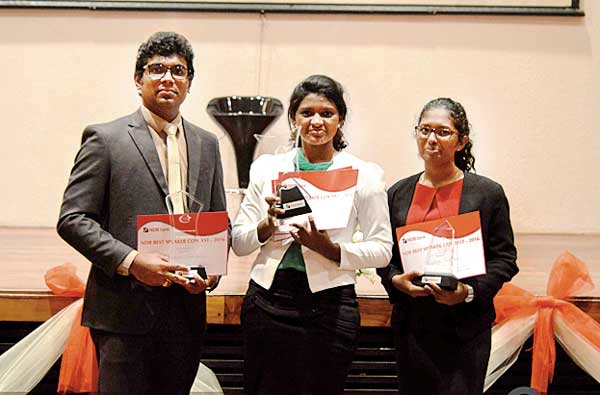 From left: First runner-up Rangana Colombage (Branch Network Management), winner Vinolia Victoria (Kuliyapitiya branch) and second runner-up Kavindri Alexander (Retail Credit)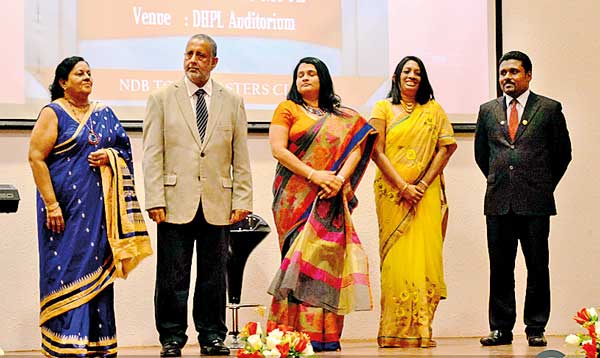 From left: First runner-up Rangana Colombage (Branch Network Management), winner Vinolia Victoria (Kuliyapitiya branch) and second runner-up Kavindri Alexander (Retail Credit)
The splendorous grand finale of the NDB Best Speaker Contest organised by the National Development Bank PLC (NDB) was recently held at the DHPL Auditorium of the NDB-EDB Towers.

The event was graced by chief guest, NDB Chief Executive Officer Rajendra Theagarajah and guest of honour, NDB Chief Operating Officer Rohan Muttiah. The event was attended by the senior management and the staff of the bank and invitees from the Toastmasters fraternity.

Theagarajah in his speech said that NDB has recognized and fostered the development of speech crafting amongst the staff and will no doubt continue contributing to individual personal development which will add tremendous value in positioning the NDB staff in their chosen vocation and also hopefully will create an opportunity to relax and have fun.

Muttiah stated, "The NDB Toastmasters Club is committed to creating our own wonderful orators and our own great voices, spreading the message to our customers and exhorting us to attain new heights.'

NDB Toastmasters Club President Gaya Hewawasam in her welcome speech stated that the NDB Best Speaker contest is an event to extend encouragement to NDB staff who are willing to experience the excitement of speaking in public and would like to recognize and appreciate Chief Judge Distinguished Toastmaster Padmini Samarasinghe and the panel of judges and Distinguished Toastmaster Trishma Pinto who trained the contestants.
As explained by Project Chairman Moditha Sendanayake, the contest received an overwhelming response by all staff representing all areas of the bank including the branch network and was held in three rounds. Training workshops were held at the end of each round which enabled the contestants to identify their strengths and weaknesses to improve themselves before the next round.