---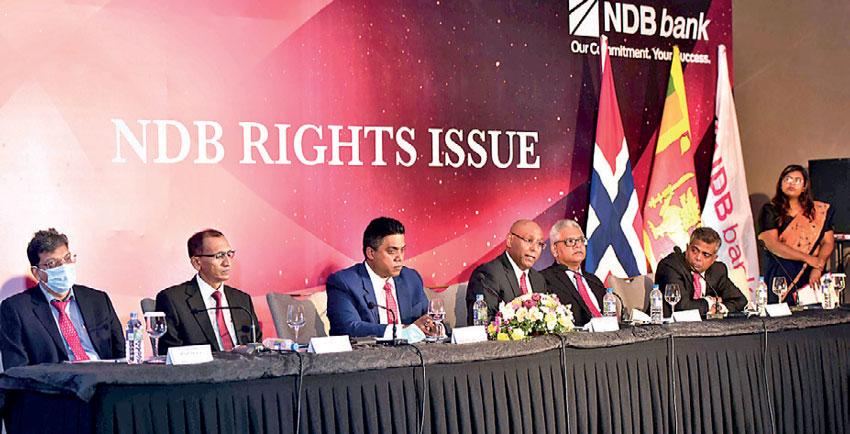 NDB Group CEO Dimantha Seneviratne briefing journalists on Norfund's investment. Other member in the head table from left: NDB Directors Hiran Perera, Sujeewa Mudalige, NDB Chairman Eshana De Silva, NDB Senior Vice President Personal Banking, Marketing & Customer Experience Sanjaya Perera, and NDB COO Deepal Akuretiyagama
Pic by Pradeep Dilrukshana
By Shabiya Ali Ahlam
National Development Bank PLC (NDB) last week expressed confidence in their ability to achieve improved growth in the immediate future, as increased focus will be on meeting the Tier I & II requirements, two areas where the entity requires attention to progress its overall position amongst competitors.

NDB, which aims to position itself as a Rs.1 trillion asset base bank by 2025, currently has a Tier I capital composition of 9.2 percent, the lowest amongst the six commercial banks operating in the county.

Similarly, its Tier II capital composition is 14.2 percent, making it stand​​ on the fifth position, above Seylan Bank.

"One area that we have been weak is the Tier I; we are below the industry average of 13 percent, whereas for Tier II we again are below the industry average which is about 15 percent. This is an area we are trying to address, and we are in the right direction," said NDB Group Director/CEO Dimantha Seneviratne.

Seneviratne said the rights issue that is already announced would assist the bank to improve its stance in this regard.

Norwegian Development Finance Institution, Norfund, last week reached an agreement to invest up to 9.99 percent in NDB where the foreign investor will participate in the Rs.8 billion rights issue.

The exercise will be carried out by way of subscribing to unsubscribed rights and also by way of private placement if required.

The private placement is priced at a 10 percent premium to the rights issue at Rs.82.5 per share. The average closing price of NDB shares last week was in the range of Rs.79.60 – 78.60.
Norfund's intervention via the rights issue will bring NDB's Tier I to 11.1 percent, and its Tier II to 16 percent, Seneviratne said.

The equity investment by Norfund is not only the first foreign equity placement agreement for NDB bank, but also is the first equity investment of Norfund in Sri Lanka.

The investment, which is the first in Asia for Norfund in 2021, will increase NDB's foreign shareholding percentage to around 21 percent.

This investment is subject to other conditions, including regulator and shareholder approvals.