---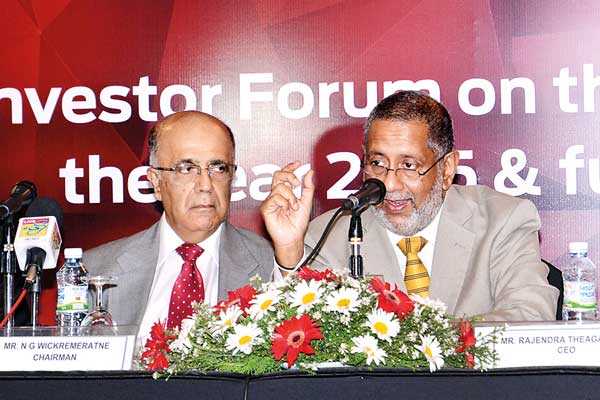 From left: NDB Chairman N.G. Wickremeratne and NDB Director/CEO Rajendra Theagarajah
Pic by Pradeep Pathirana
Sri Lanka's development-oriented commercial bank, National Development Bank PLC (NDB), said it was committed to the universal banking model, which includes both commercial and investment services.

The NDB group, which crossed the Rs.300 billion (Rs.315.4 billion) mark in assets in the financial year 2015, operates with development and commercial banking, investment banking, private equity and venture capital spheres through its subsidiaries.
"We are committed to retain and nurture the 'universal banking model'.
Again, the bank is in motion very much in its growth phase and we (are) always evaluating options to see how these investments can play a meaningful part in our strategic journey," he said.
It was in the grapevine that NDB was in talks to buy a controlling stake in Seylan Bank.
As of September 30, 2015, NDB had a 8.72 percent stake in Seylan Bank.

Theagarajah has been a proponent of banking sector consolidation mooted by the last regime and is also of the belief that an "occasional nudge" from the government is needed to stimulate the process.
"I have gone through this journey for the last two to three years and I have not given it up. The issue is that leaving it entirely to the private sector to drive it and leaving it to the democratic process don't work," he said at a banking sector forum held last year.

Meanwhile, the research arm of the stock brokerage, Asia Securities (Private) Limited, said Seylan Bank PLC could become a takeover target for either NDB Bank PLC or DFCC Bank PLC.
"Strong branch network, high current and savings account (CASA), strong presence in SME and retail banking and exposure to credit card business have led the bank to be a prime takeover and merger target for growing banks like NDB and DFCC," they said in their banking sector report launched last year.

Sri Lanka's forced banking and financial services sector consolidation was shelved by the committee appointed to look into the programme under the
new regime but concluded that shareholder-driven mergers were welcome.