---
The National Development Bank PLC group (NDB) reported earnings of Rs.737.5 million or Rs.4.46 a share for the January – March (1Q17) quarter, up 35 percent year-on-year (YoY), the interim financial accounts released to the Colombo Stock
Exchange showed.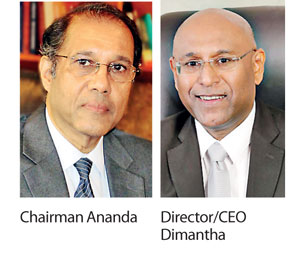 The bank recorded a modest loan growth of Rs.13.4 billion or 5.7 percent for the quarter while maintaining the margins at slightly higher than in December 2016. This could be attributed to the asset repricing decisions taken during the period under consideration in line with the rise in market interest rates.
The net interest margin (NIM) slightly rose to 2.78 percent from 2.64 percent in December 2016 but still below the industry average of around 3.4 percent.
Nevertheless, this bode well for the bank to record better core banking performance as the net interest income rose by 17 percent to Rs.2.42 billion from a year ago.
NDB has years been reeling from compressed margins as almost half of its loans consist of medium to long-term facilities or project lending, which generally fetch relatively lower yields than consumer loan facilities.
NDB used to receive much of its funding from near-zero cost funding lines from multi-lateral lenders and other sources but such funding gradually dried up when the country migrated to a lower-middle-income earnings status around 2010.
Thus, much of those medium to long-term facilities were funded with high-cost mid-term deposits with the absence of a solid low-cost deposit base, which eventually started to bite on the bank's NIM.
After the bank entered into the highly competitive commercial banking business little over 12 years ago, NDB started raising demand deposits, which are virtually zero cost.
However, the bank's low-cost deposit base or the current and savings account (CASA) base, still hovers around 20 percent levels. By end-1Q17, the CASA ratio was 21.74 percent, tad weaker than 22.76 percent in 2016.
However, the bank raised as much as Rs.24 billion in new deposits, mostly mid-term deposits during the first quarter.
Now the bank's deposit base stands at Rs.227.9 billion and the loans and receivables are at Rs.247.1 billion.
Meanwhile, NDB's net fee and commission income narrowed by 7.0 percent YoY to Rs.710.8 million while the trading gains rose by 46 percent YoY to Rs.272.7 million, which the bank attributed to the exchange rate volatility.
Provisions made for possible bad loans under specific customers and collectively fell sharply and as a result the total impairments fell to Rs.111.5 million from Rs.545.9 million YoY.
The asset quality was slightly impacted as the gross non-performing loan ratio edged up to 2.87 percent from 2.63 percent in December 2016.
Both Tier I and Tier II capital adequacy ratios stood at 9.24 percent and 12.76 percent, respectively, slightly weaker from 9.31 percent and 12.95 percent by end-December 2016.
The bank earlier said infusion of fresh capital during 2017 is a key strategic priority to prepare for higher capital requirements under the BASEL III accord and also to support growth.
As of March 31, 2017, controversial primary dealer, Perpetual Treasuries had 4.45 percent of the bank being the seventh largest shareholder. Another 2.07 percent stake was held by Perpetual Equities (Private) Limited. Accordingly, the Perpetual group held a 6.52 percent stake in NDB, up from 6.17 percent held in December 2016.
The government held slightly above a 30 percent stake in the bank through Bank of Ceylon, the Employees' Provident Fund and Sri Lanka Insurance Corporation.