---
The Global Banking and Finance Review Awards honour institutions that stand out in their particular area of expertise in the finance industry.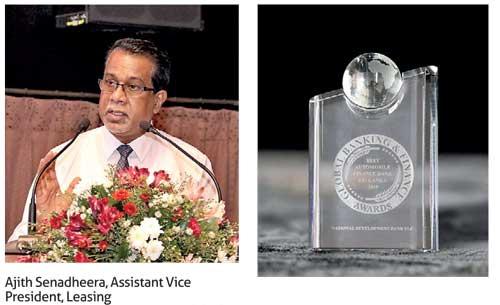 They recognize achievement, challenge, progress and inspirational change in finance globally. The awards were created to recognize companies of all sizes which are prominent in particular areas of expertise and excellence within the financial world. The Banking awards & the Financial Awards are known throughout the global banking and financial community as a symbol of excellence. It is at this awards ceremony, that NDB Leasing was conferred the Best Automobile Finance Bank Sri Lanka 2019.

With the opening of three new leasing centres in Negombo, Gampaha and Kurunegala, NDB Leasing has taken additional steps to provide its customers with the very best in 2019. Additionally, NDB Leasing is known to offer competitive interest rates and flexible repayment plans that extend up to 7 years. NDB customers can enjoy customised repayment plans that match the individual repayment capacity along with discounted insurance premiums. Additionally, structured payment plans with balloon payments and facilities with residual value/ multiple RV are also available.

In order to serve the Bank's Leasing clients better, NDB Leasing will also be opening Leasing Centres around the island, including Kalutara, Rathnapura, Galle, Kandy, Anuradhapura and Batticaloa.

NDB has continuously enhanced its vehicle financing proposition to accommodate the diverse, evolving needs of consumers.

NDB Leasing is available for individuals as well as Small and Medium scale enterprises. It helps to enhance and develop the SME's sector of the country, by facilitating the purchase of a range of commercial vehicles such as Lorries, freezer Lorries, buses, and vans as well as equipment. In addition, NDB has also offered customized leasing facilities through its credit line funding for small and medium scale businesses in island wide including North and East Provinces under concessionary rates.