---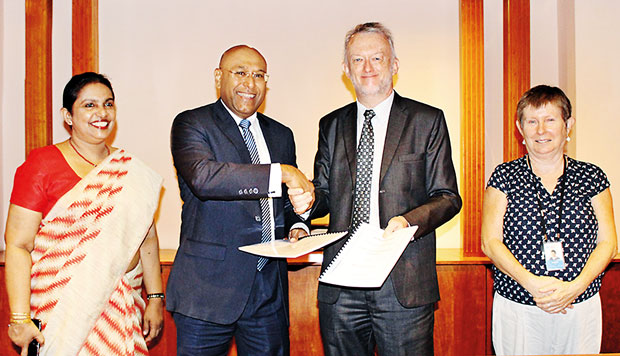 From left: NDB Vice President Administration and Services Delrene Seneviratne, NDB Director/CEO Dimantha Seneviratne, British Council Country Director Keith Davies and British Council Manager English Language Training Projects Dr. Lesley Dick
National Development bank (NDB) joined hands for the fifth consecutive year with British Council to contribute towards enhancing the teaching skills of secondary English language teachers of government schools in order to uplift the standard of English teaching in Sri Lanka.
English is the most widely used language around the world and has become the gateway to opportunity and success. Communication is key to virtually every aspect of business, with effective communication with customers, employees, partners, suppliers and other stakeholders essential to the success of a business. Therefore, proficiency in English offers a key competitive advantage in a difficult employment environment.
Education is a long-term investment and as a responsible corporate citizen, NDB strives to make a meaningful contribution to the society through activities that uplift and empower the future of our country. Therefore, education is one of the key strategic focal points around which the bank has structured its sustainability activities. In line with this thinking, NDB has sponsored the development of English communication since 2009 with programmes initially conducted for students. From 2012 onwards, with a view to conducting a more sustainable programme that would benefit many students in the future, NDB commenced this initiative to improve the teaching skills of secondary school teachers. This proved to be very successful, providing teachers with access to the best resources and latest approaches to English language teaching and learning.
NDB as a responsible corporate believes that this sustainable initiative will help the nation's youth in the long term. NDB continues its efforts to empower the youth of the nation through multiple projects that place emphasis on issues that are critical for sustainable economic growth and the future success of the nation as a whole. The British Council in Sri Lanka is the UK's international organisation for educational and cultural relations and helps people around the world develop English language skills.
NDB remains dedicated to bringing its customers one step closer to accomplishing their lifelong ambitions through the range of services that are accessible through its growing branch network.