---
The National Chamber of Exporters of Sri Lanka (NCE) has collaborated with the International Labour Organisation (ILO), with a view to establish business linkages for export with agricultural producers in the Northern and Eastern Provinces of Sri Lanka.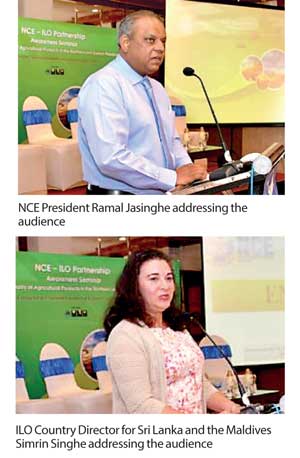 In this regard, an awareness seminar for exporters regarding agricultural products available in the Northern and Eastern Provinces was held on November29th2017 at The Kingsbury hotel.

The programme was held with the participation of Norwegian Ambassador to Sri Lanka Thorbjorn Gaustadsaether, ILO Country Director for Sri Lanka and the Maldives Simrin Singhe, NCE President Ramal Jasinghe, NCE Secretary General Shiham Marikar and ILO EGLR Project Head Nihal Devagiri.
The objective of the project is to promote inclusive economic development among the people in the Northern and the Eastern Provinces, creating decent employment opportunities, and long-term sustainable livelihoods. It recognises the important role of the private sector, and especially the export sector to achieve these objectives.

For this purpose, during the last four years, the NCE has led business delegations to the Northern and Eastern Provinces, and has successfully linked exporters with producers through mutually beneficial programmes.

The Hatton National Bank PLC was on board at this seminar to promote special SME credit scheme of the bank for exporters.

More than forty exporters participated at the programme and they were interactive during the session to clarify facts regarding the availability of products from the Northern and Eastern regions.