---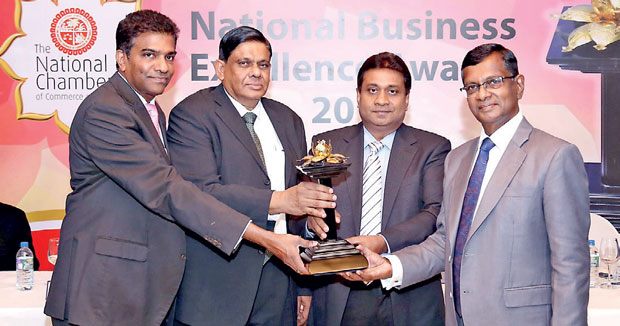 From left: NBEA 2017 Technical Panel Chairman Nandika Buddhipala, NCCSL Senior Deputy President Asela de Livera, NCCSL President Sujeeve Samaraweera and NBEA 2017 Panel of Judges Chairman Sunil G. Wijesinha unveil the trophy
By Zahara Zuhair
Winning the National Business Excellence Awards (NBEA) has helped Lanka Orix Leasing Company (LOLC) Group to become the most profitable entity in Sri Lanka, its Chief Operating Officer and Chief Legal Officer Kithsiri Gunawardena said.
Being the previous year's overall Gold award winner, he said this is an endorsement of the efforts taken by the National Chamber of Commerce (NCCSL) and the criteria used by them for the NBEA.
NBEA 2017, to be held for the 14th consecutive year, invites all business enterprises to be part and be recognised in this award competition.
The objectives of the competition are to recognise and reward those organisations that have excelled in all-round performance, to encourage Sri Lankan organisations to emulate the organisations which have achieved excellence, etc.
NCCSL President Sujeeve Samaraweera said that being recognised and winning an award not only increase the quality of the company but also increase the efficiency of the employees.
He said that by giving the opportunity for the small and medium-sized enterprises (SMEs) also to participate, it would encourage them to go up to a top level company.
Talking about the evaluation process, which is based on several international models, NBEA 2017 Chairman Panel of Judges Sunil G. Wijesinha said that it is structured on seven criteria, which are Excellence in Leadership, Excellence in Corporate Governance, Excellence in Local and Global Market Reach, Excellence in Corporate Social Responsibilities and Environmental Sustainability and Excellence in Business and Financial Results.
He said that this award scheme is considered as the most transparent award scheme in Sri Lanka.
Ninety two awards are to be presented to the winners this year, including for the Overall Excellence winners of Gold, Silver and Bronze.
The competition is comprised of - extra large, large, medium, small, micro and diversified sectors.
The category of applicant will be determined by considering the provided criteria (number of employees, capital employed and revenue).
The focus is not only to be award winners but all enterprises that have been influenced to improve their performances by following the excellence model and evaluation criteria.
Having commenced in 2004, the NBEA has over the years recognised business establishments that have excelled in performance and encouraged many to pursue and conform to the suggested excellence model.
The closing date for the applications will be September 15, 2017.
The award ceremony is expected to take place on December 13, 2017.