---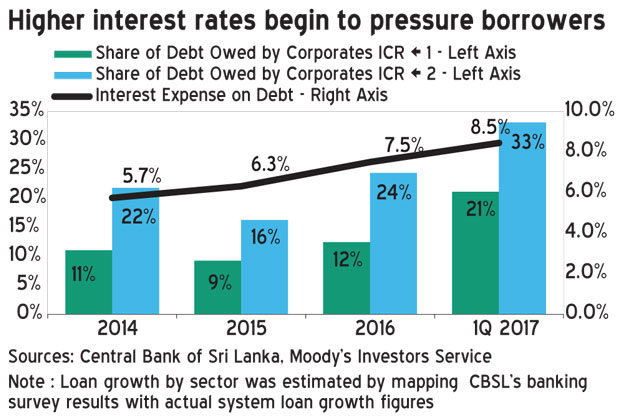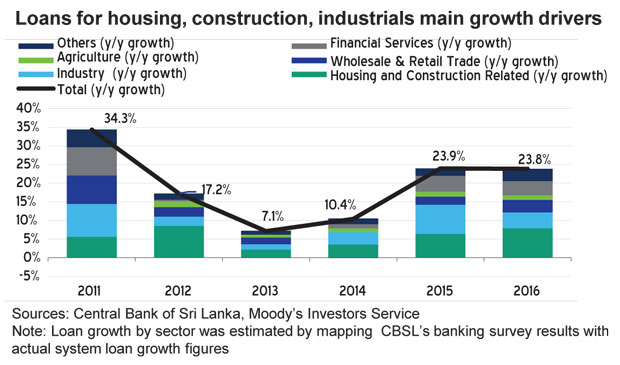 Moody's Investors Service has revised the credit outlook on Sri Lankan banks to 'Negative' from 'Stable' in view of the poor asset quality and weakening profitability of the sector as the global rating agency expects the toughened macro-economic conditions to take toll on the largest and the most resilient business sector in the country.

According to Moody's, the banking sector will see higher non-performing loans (NPL), after the rapid loan growth experienced during 2014-2016 period starts to season.

"The seasoning of these loans will lead to asset quality deterioration. While the system gross NPL ratio remained a low 2.7 percent of gross loans at end of June 2017, we are beginning to see an uptick in gross NPL ratios among our rated banks", Moody's said,
The rating agency singled out property and construction segments to generate more of these default loans.

It was only this week Mirror Business showed that Sri Lanka's banking sector exposure to property loans have shown a marked increase and some borrowers have concealed such as loans obtained for small and medium enterprises.
Meanwhile, Moody's also cautioned the banks of potential default pressure from corporates due to rising interest rates and their increased levels of leverage.

"We estimate that a 50 percent increase in interest costs will lead to a 22 percentage point increase in the proportion of corporate debt with interest cover below 2 times", Moody's added.

The sector profits will also be lower when the margins get narrower due to higher funding costs and increasing credit costs.

However, Sri Lanka's banking sector has shown resilience through challenging times and has delivered consistent returns through economic cycles, the empirical data show.

During the six months ended in June 2017 (1H17), the Lankan banks increased their after- tax profits by as much as Rs.12.5 billion to Rs.64.6 billion, according to the Central Bank data.

Although the Sri Lankan banks operate with stable capital levels and improved liquidity and funding profiles after the slowdown in demand for loans, some downside risks will remain.

It is also highly unlikely that the banks would declare dividends during the next few years as they have to comply with higher capital requirements under BASEL III but this strategy raises the risk that some banks are likely to face poor capital market reception, Moody's said.

The rating agency pointed out that in the case of need of systematic support to a bank, the government's capacity to support such bank is now restricted due to high debt burden and contingent liabilities relating to state-owned enterprises.