---
The Central Bank is likely to issue a formal directive in due course to the effect of higher minimum capital requirements for licensed banks after the Monetary Board, the institution's governing body, studies the proposal as they are well in favour of sector consolidation, according to the Central Bank Governor.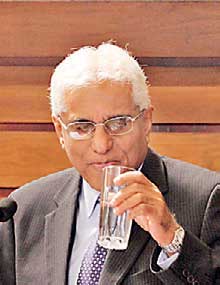 Speaking to the press after unveiling the bank's mid-term monetary and financial sector policies in its road-map, Dr. Indrajith Coomaraswamy said a final decision would be taken by the Monetary Board, which he chairs and the Secretary to the Finance Ministry has voting powers. However, the road map itself is silent on raising minimum capital level of banks as proposed by the country's Finance Minister. Finance Minister, Ravi Karunanayake proposed to double the minimum capital of licensed commercial banks from Rs.10 billion to Rs.20 billion in its 2017 budget which was passed by a majority in Parliament December, last year.
Asked if a directive was likely to be issued raising minimum core capital level of licensed commercial banks, Dr. Coomaraswamy said, "I think so, yes. Personally I think, we need to move in the direction of consolidation. This is one of the means through which you can encourage or incentivize consolidation. But it's a Monetary Board's decision".
Despite the fact that the Central Bank welcomes the Finance Minister's proposal to raise minimum core capital, the proposal apparently could face an obstacle if foreign banks, which are either likely to resist the move outright or close down shop if they do not see the financial rationale of raising capital bar compared to the scale of operations in the country. The Central Bank is already believed to have communicated the cocern with the Finance Minister and the matter is now being evaluated at ministerial level.
The Central Bank in recent times came under flack for the undercapitalization of some of the small and mid-sized commercial banks for their regulatory forbearance.
However, the Governor said he wanted to do away with such "go-soft" policies and would be tougher on financial sector going forward.
Meanwhile, higher minimum capital requirements are less likely to impact many players in the financial sector as in recent times even some of the small and mid-sized commercial banks, which were falling well behind the capital threshold, have taken some tangible steps to raise the capital.