---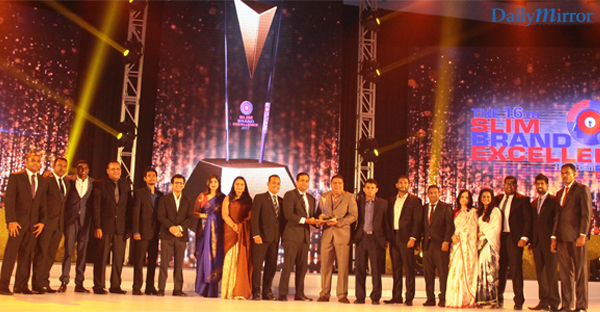 •
Mobitel also received a Silver and 2 Bronze Awards for 'Online Brand of the Year', 'CSR Brand of the Year' and 'Local Brand of the Year' respectively
Sustaining its journey of excellence, Sri Lanka's National Mobile Service Provider, Mobitel, shone at the SLIM Brand Excellence Awards 2017 held at the BMICH on 20th November 2017, where it walked away with a Gold award for 'Service Brand of the Year'. This stands testament to Mobitel's brand promise of 'We Care. Always' and has proved that the operator puts customer service excellence as its priority in their business strategy continuity. This prestigious award in the service category was awarded to Mobitel amongst all the other prominent industries present.
Mobitel was also awarded one more Silver and 2 Bronze Awards at the SLIM Brand Excellence Awards 2017. The Silver was awarded to Mobitel for 'Online Brand of the Year' for Mobitel's mCash, which was incorporated in the year 2013. Mobitel received the 2 Bronze awards for 'CSR Brand of the Year' and 'Local Brand of the Year' at the awards. These industry leading accolades are a clear demonstration of Mbitel's unique offering as a proud local brand that is setting new industry benchmarks.
Commenting on the win, CEO of Mobitel, NalinPerera, said, "We are delighted to be recognised and rewarded on such a prominent forum as SLIM Brand Excellence Awards, where the nation's best brands congregate. It has enabled us to showcase our brand strengths of Mobitel with much success, making the Mobitel brand even more stronger. To win the Gold for 'Service Brand of the Year' is a true measure of our achievement. Mobitel has expanded its offerings beyond the realm of telecommunications alone by foraying into transportation, education, health, security, leisure and mobile money sectors, thereby offering greater value. Our point of difference remains 'Customer Centricity', 'Value Innovation' and 'Underlying Care' as we uphold our 'We care. Always.' credo."
The SLIM Brand Excellence Awards is a celebration of brand excellence at national level and rewards the outstanding efforts of outstanding marketers. This event translates as industry recognition of the motivation, dedication and hard work that great marketers have demonstrated in making brand champions. SLIM's efforts to make marketing the driving force in the economy will be measured by several factors; the significance and direct benefits of marketing strategies for an organisation being among the most important.As the national body of marketing, the Sri Lanka Institute of Marketing (SLIM) encourages strategic and result-oriented thinking in the fields of brand development, sales, advertising and research through events such as the SLIM Brand Excellence Awards, NASCO, the Effies and the People's Awards.