---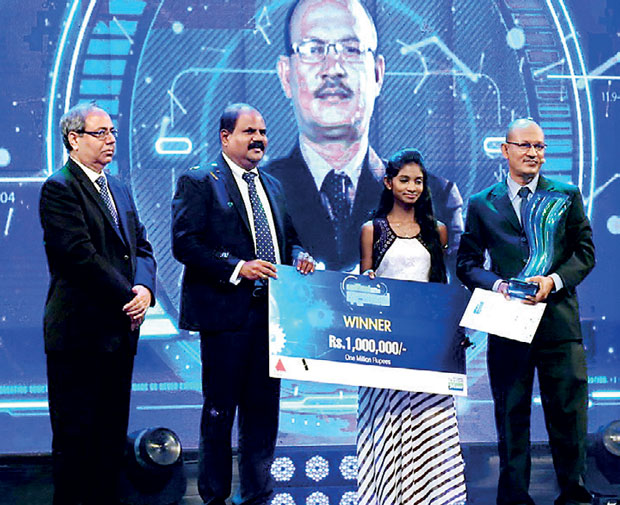 Grand winner Sunil Jayasinge receives his award from Sri Lanka Telecom Group Chairman P.G. Kumarasinghe Sirisena and Capital Maharaja Organisation Group Chief Executive Officer Mohan Barara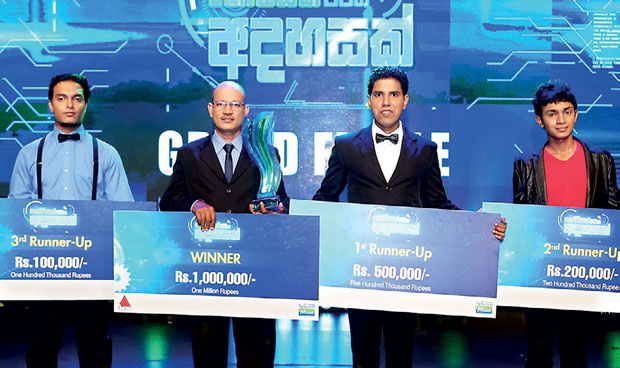 From left: Kotiyak Vatina Adahasak third runner-up Shashi Sampath, grand winner Sunil Jayasinghe, first runner-up Asiri De Silva and second runner-up Aruna Prasad
The national mobile service provider, Mobitel, together with Sirasa TV launched Sri Lanka's first-ever technology-based innovation reality TV show Kotiyak Vatina Adahasak in July 2016 and the grand finale of the show was held recently, where the winner of the best technology innovation was selected.
The programme was powered by Mobitel, which conceptualized the programme and it was produced and aired on Sirasa TV.
The event was graced by Moratuwa University Vice Chancellor Professor Ananda Jayawardane as the chief guest and also present were Sri Lanka Telecom Group Chairman P.G. Kumarasinghe Sirisena and Mobitel Chief Operating Officer Nalin Perera.
The programme brought in a total on more than 1,000 registrations from across the country out of which 125 applicants were shortlisted after an orientation session and the first pitching round. Following this, a further 24 applicants were shortlisted after the second pitching round.
After product demonstrations and prototype evaluations, the 24 applicants were further shortlisted to 12 and thereafter eight applicants. After a business and marketing pitch, four applicants were taken to the investor pitch of the grand finale. The final 12 were provided with Rs.100,000 each to further develop their innovations into products.
Throughout the programme, workshops were conducted to introduce the applicants to the entrepreneurial mindset and the objective was for the applicants to develop their creative capacity, entrepreneurial confidence and acquire the skills necessary to build scalable ventures that solve real-life problems.
The workshops featured experienced entrepreneurs and industry experts as speakers providing the participants the opportunity to learn key entrepreneurial concepts and practices and to network with like-minded people. The finalists and final winner were selected by a panel of judges based on the criteria of the impact to society, business potential, uniqueness, marketability and sustainability of the innovation presented.
The members of the expert panel of judges were Intel Sri Lanka Country Business Manager Indika De Zoysa, Kapruka Founder and Chief Executive Officer Dulith Herath, Inventor/Senior Research Scientist/Hybrid Technologies Chief Executive Officer Nanotechnology Manju Gunawardana, business coach and entrepreneur Fayaz Hudah, University of Moratuwa Electronic and Telecommunication Engineering Department Head Prof. Rohan Munasinghe, University of Moratuwa Computer Science and Engineering Department Senior Lecturer Eng. Nalin D. Karunasinghe and Crowdisland.lk Chief Executive Officer Chalinda Abeykoon.
The innovations of the final four applicants in the grand finale were a smart industrial boiler, a remote cash depositing system, a smart laser driller and a forged currency note and document detector. The grand winner was the remote cash depositing system that was innovated by Sunil Jayasinge under the name 'Easy Deposit'. He was awarded a prize of Rs.1 million for his innovation.
The first, second and third runner-ups were awarded cash prizes of Rs.500,000, Rs.200,000 and Rs.100,000, respectively for their innovations.