---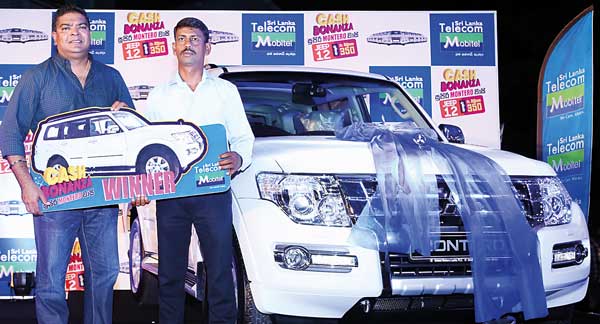 SLT Mobitel Chief Operating Officer Nalin Perera awarding Cash Bonanza Montero Extravaganza 2016 June winner R.D. Nimal Jayasinghe from Padavi Shri Thissapura the Montero
Cash Bonanza Montero Extravaganza 2016 introduced by the national mobile service provider, SLT Mobitel has become one of the most popular competitions in the country. It rewards customers on a monthly and daily basis an amazing Rs.350 million including 12 luxury Mitsubishi Montero jeeps to 12 lucky winners.

Five lucky winners have already walked away with a luxury Montero each from Mobitel. The lucky winners for January, February, March, April and May are N.G. Shanika Srimali from Ambalantota, J. M. Thushantha Jayalath from Wariyapola, R.M. Roshan Priyadarshana from Badalkumbura, R.M.B.P.P. Kumari from Nittambuwa and P.A. Kusumawathi from Thanamalwila, respectively.

The sixth lucky winner to walk away with the Montero for June 2016 is R.D. Nimal Jayasinghe from Padavi Shri Thissapura. Cash Bonanza Montero Extravaganza 2016 will be awarding another six lucky winners Monteros for the remaining months of 2016.

The Cash Bonanza prize giving for June was held at Moratuwa Soysapura Grounds and commenced with a musical show where the performing band was 'Line One' along with various popular artist performances. SLT Mobitel awarded the sixth Montero prize to its customer, R. D. Nimal Jayasinghe from Padavi Shri Thissapura and the prize was awarded to him by SLT Mobitel Chief Operating Officer Nalin Perera. This customer is the sixth lucky customer to walk away with the luxury Montero from Mobitel. Including the six brand-new Mitsubishi Monteros, Cash Bonanza has awarded a total of 336,706 customers with prizes worth over Rs.174 million up to June 2016.

On the day of the carnival at, a special 'Eye Clinic' was held for valued customers where 1500 customers were given spectacles free of charge along with an eye checkup done by qualified and experienced opticians. Additionally, many activities were organised during the day for participants including a kids play area with entertainment for them to have a good time and Mobitel products stalls to experience the products and services offered by Mobitel. Special offers were also given for valued Mobitel customers, including the Upahara smartphone offer, gift items and more. A gaming zone was also set up for customers for entertainment powered by Mobitel Broadband for the ultimate gaming experience.

Mobitel pre-paid, post-paid and broadband customers are eligible for the Mobitel Cash Bonanza draw with every Rs.50 cash recharge, reload or post-paid bill value payment. For the daily cash prizes, pre-paid winning customers will receive the prize by way of talk time for the same value and post-paid winning customers will receive the prize by way of a rebate on their post-paid bill.

Cash Bonanza winners will only be notified via Mobitel's customer care hotline 071 27 55 777 and in writing via post. Customers will not be charged an additional fee for any prizes they have won.