---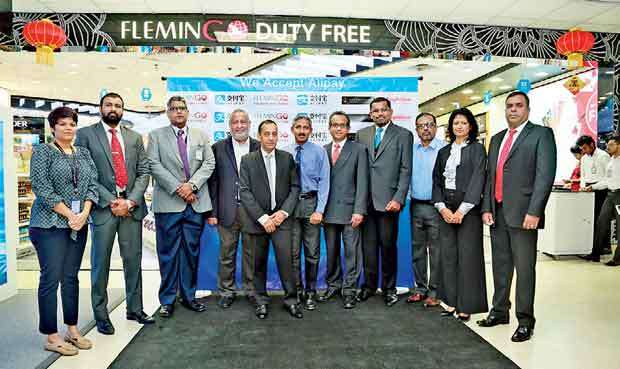 Flemingo Duty Free, Cargills Bank and Supreme Paysez officials at the launch of Alipay at BIA
Becomes first Chinese mobile payment partner to make presence at BIA
Flemingo believes the facility will boost Chinese shopper confidence at airport
Flemingo Duty Free, Cargills Bank and Supreme Paysez recently signed a strategic partnership agreement to roll out the Alipay mobile payment gateway at Bandaranaike International Airport's (BIA) duty free shops of Flemingo. A joint marketing arrangement is now in place for Flemingo to offer customized and targeted shopping offers to Chinese passengers using Alipay.Alipay, operated by Ant Financial Services Group is the world's leading online and mobile payment platform with over 700 million active users in mainland China.
Alipay is the first Chinese mobile payment partner to make presence at BIA.

Chinese visitors to Sri Lanka growing in numbers are seen as one of the top spenders at the airport.

This new mobile payment option will allow them to enjoy convenient payment mode when shopping at Flemingo duty free.

With the launch, Flemingo will be the first duty free operator at BIA to launch Alipay as a mobile payment platform on a large scale across its wide range of commercial offerings.

To celebrate the introduction of the new payment platform, both parties have launched a shopping promotion where Alipay users can enjoy discounts when shopping at Flemingo Duty Free.

"We are extremely excited to launch Alipay at Bandaranaike International Airport. For the last seven years since we started our operations in Sri Lanka, we have implemented various marketing partnerships and initiatives to engage and excite the customers and make the shopping experience more memorable in our shops.
It is a matter of great pride to associate with Alipay, which is the largest mobile payment platform in the world and give the ever growing Chinese passengers the option to pay in their most trusted payment platform in Sri Lanka," Flemingo International COO-Asia P K Thimmayya, said,

"By launching the facility during the Golden week, we feel that we have once again been successful in pioneering and delivering great value to the customers and all our valued partners. We are very confident that this facility will boost the Chinese shopper confidence at BIA as a trusted and favourable shopping destination," he added.

In his congratulatory message, Alipay Country Manager Melvin Ooi said, "Partnering with innovative and ambitious partners like Supreme Paysez, we are giving Chinese travellers the safe, efficient and convenient payment services that they are used to at home.

Along with the launch of this partnership, restaurants and offline retailers across Sri Lanka will be able to benefit from the development of technology. They will be able to easily reach out to booming Chinese customers that will ultimately help them grow their business ''

"We are proud to be partnering Alipay & Cargills Bank on this historic initiative. Considering the growing number of Chinese tourists and Alipay being their favourite digital wallet, this launch will set the trend on the usage of technology to boost trade," Cargills Bank MD/CEO Rajendra Theagarajah said.

"This is only the beginning of an Island-wide roll-out strategy Cargills Bank has planned with Supreme Paysez where Alipay will be made available across businesses whether micro, SME or large and will actively support the country's strategy to attract a large number of visitors from China," he added.