---
Microsoft plans to take the local start-ups to the next level supporting them to expand globally with the launch of the Microsoft ScaleUp programme in Sri Lanka.

Sri Lanka was also one of the first countries in the SAARC and Middle Eastern regions to become part of the Microsoft ScaleUp programme.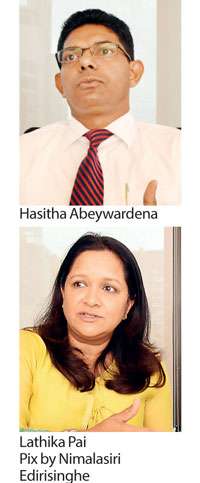 Joining for a discussion with Mirror Business, Microsoft for Start-ups Managing Director Lathika Pai during her visit to Sri Lanka recently said, "Since I have come to Colombo, I met absolutely phenomenal local start-up founders and I would say world-class entrepreneurs. What stops these entrepreneurs becoming really big is the fact that they need the support in terms of taking them global. So, that's why Microsoft is here to announce that Sri Lanka is now part of the global ScaleUp programme."

Microsoft ScaleUp offers late-stage and series A start-ups, who are keen to take advantage of Microsoft's growth programmes, such as co-marketing and co-selling opportunities, hone their infrastructure and build their businesses.

"Our focus to go deep with few start-ups and really helping to create that, I would say, next US $ 100 million company coming over the next five years," she asserted.
Pai was also hopeful that Microsoft ScaleUp would support the start-ups to transform to unicorn companies.

She noted that Microsoft would be selective in choosing local start-ups, pointing out that working with a few start-ups enables Microsoft to support them to go deep.

"It's about working with a few, going deep, helping them with their technology platform and architecture and bringing them out to Microsoft market place. Getting them co-sell ready is a very critical part of this particular programme.

Why is it critical? Because Microsoft today is almost in every enterprise across the globe.

So, if a start-up looking is co-sell ready and if they want to expand their market to New Zealand or the US or Latin America, then Microsoft is there.

As being part of Microsoft market place, co-selling, accessing to these markets become easy," she elaborated.

Pai highlighted that many start-ups face challenges in expanding globally as they lack a viable technology platform.

"When start-ups want to go global, they don't realise. It may be really exciting for them to get a global customer but do they have the technology platform to support it? The answer is nine out of 10 times, no. You got yourself a few clients and you are somehow managing it. But you are not ready to take it global with the demands of enterprise clients.

The ScaleUp programme is to really ensure that from market-ready to start-ups becomes enterprise-ready. That's really what our goal is," she said.

She noted that the start-ups, which are B2B, revenue generating, Series A funded would be qualified to the programme.

However, she said that the start-ups, which have developed cutting-edge technologies, would be an exception to this criterion, as Microsoft could support these start-ups to create value to deliver the next disruptive technology.

Pai reiterated that the Microsoft ScaleUp programme is not a venture capital fund. However, it would help start-ups to get access to various forms of funding and credit.

Sharing his view on the programme, Microsoft Country Manager Sri Lanka and the Maldives Hasitha Abeywardena said, "When you enrolled in ScaleUp, you get the access to other markets, which includes co-selling with the Microsoft team, not only in Sri Lanka but also worldwide. This is a platform for Sri Lankan companies to showcase themselves and sell their products."

Abeywardena was also upbeat that Microsoft ScaleUp could also contribute to achieve Sri Lanka's IT/BPM export goal of US $ 5 billion in 2022, while developing people.

He revealed that Microsoft has supported and worked with over 200 start-ups in Sri Lanka during the past five years, which he called the first phase in supporting local start-ups and he noted that Microsoft ScaleUp is the second phase.

Microsoft has committed US $ 500 million over the course of the next two years to run joint sales engagements and offer to start-ups access to technology and community spaces. (NF)