---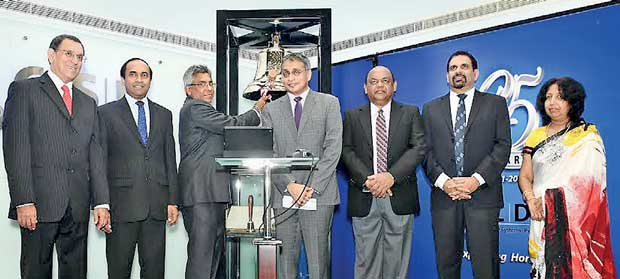 Melstacorp Director Royle Jansz, CSE CEO Rajeeva Bandaranaike, Melstacorp MD Amitha Gooneratne, CSE Chairman Vajira Kulatilaka, Melstacorp Director Capt. Jagath Kahanda, Melstacorp Corporate Consultant Damien Fernando and Melstacorp Director Vyjayanthimala Senaratne
By Chandeepa Wettasinghe
The trading of shares of Melstacorp PLC, the new parent company of the restructured Distilleries Company of Sri Lanka PLC (DCSL), commenced yesterday at the Colombo Stock Exchange (CSE), with great optimism from both the CSE and Melstacorp top management expressed during a ceremonious market opening event.
"The introduction of this company, Melsta, is going to be another auspicious ending to the year, for a few reasons, because it is a diversified conglomerate which is being listed, and because I know in the 90s, Distilleries was the star company for a foreigner to invest in Sri Lanka," CSE Chairman Vajira Kulatilaka said.
He said that Melstacorp (MELS) would be attractive for fund managers, other institutional investors, as well as retail investors, and invited MELS officials to join with CSE in marketing Sri Lankan capital markets to the world.
MELS Managing Director Amitha Gooneratne said that the restructuring process now allows MELS, as a holding company, to pursue investments at a strategic level.
All subsidiaries of DCSL became subsidiaries of MELS, letting DCSL focus on its core operations of producing and marketing alcohol beverages.
"Our goal is to make our non-beverage segment as profitable as our beverage segment," Gooneratne said.
The 1.17 billion Melstacorp (MELS) shares, which were listed at a reference price of Rs. 69 per share, started their first few seconds of trading with bids as low as Rs. 62, which did not seem to perturb MELS officials attending the ceremony.
The fair value of MELS shares were recorded at being in ranges between Rs. 65.52 and Rs. 74.94 per shares, with an average price per share of Rs. 69.78 according to the research of CT CLSA Capital (Pvt) Ltd.
Following the day's high of Rs. 65, MELS shares closed at Rs. 59 per share.
MELS shares generated Rs. 43.04 million of the Rs. 202.01 million total turnover of CSE, with 381 trades transacting 716,175 shares.
MELS' market capitalisation is Rs. 69.11 billion, equivalent to 2.74 percent of CSE's total market capitalization. DCSL had had a market capitalisation of Rs. 80 billion, and DCSL shares are currently suspended from trading until its public float requirement is met with the issuance of new shares.
Currently MELS owns 100 percent of DCSL shares, and DCSL shareholders were issued 4 shares in MELS in exchange.