---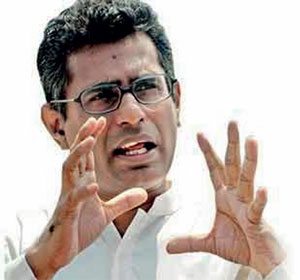 In response to the concerns expressed by various quarters on the proposed Western Region Megapolis Project moving ahead in a 'snail paced', Megapolis and Western Development Minister Champika Ranawaka yesterday assured the venture is in the midst of being executed in an accelerated manner.
Calling it a 'series of processes', the minister asserted relevant stakeholders, such as investors and the construction community, need not worry as the project is conceptualized to "accelerate Sri Lanka to get into a path of becoming a competitive economy", while creating wealth, increasing employment opportunities, and maximizing the use of resources and strategic opportunities. "Can it be accelerated? There is no question in that as it is already an accelerated project. The Megapolis has targets, which many call ambitious, that will be achieved by 2030. We are certain of it," said a highly confident minister at a seminar titled 'Western Megapolis Project- Can it be Accelerated?' in Colombo.
Taking a jab at the previous regime for not "properly planning" development projects, one of the factors according to the minister for implementation delays, he assured issues relating to drainage, solid waste and others are given due emphasis by the ministry. "Some of these issues should have been sorted out yesterday, if not 10 years ago. If we don't attend to these the Megapolis will become a shattered dream," he said.
"All these are at the core of the Western Megapolis plan and I can assure you that they are incorporated in the best accelerated mode. There shall be no room for deceleration," asserted Ranawaka. While the construction sector has called for a shift in pace in the execution of the project and clarity in their role in the venture, the minister somewhat threw the ball back to their court stating it is necessary to first address the gaps in the construction sector. It was stressed construction and procurement must be made more transparent and accountable. However, although the minister sounded upbeat on the project prospects,
Western Megapolis Planning Project, Project Director Lakshman Jayasekara said it is the relevant stakeholders who must communicate to the ministry the speed they want for the endeavour to materialize. Stating he couldn't agree more that the project is "late", Jayasekara said: "The community has an opportunity to push the government for acceleration. Tell us what speed you want. From the technical side we were ready yesterday." He added that out of the proposed 150 projects in the proposal, around 20 are all set to be rolled out, provided greater involvement of relevant players.