---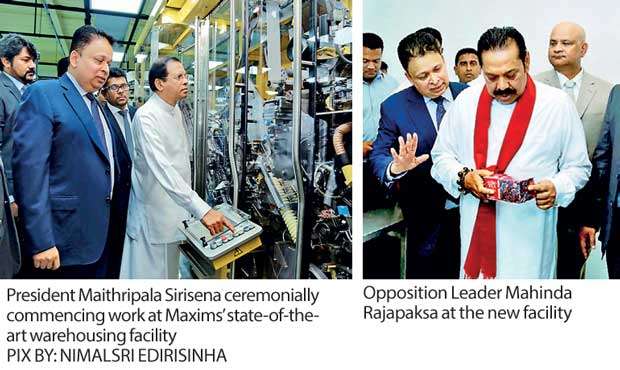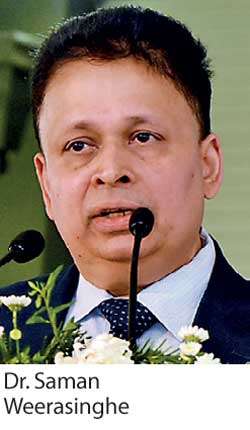 Maxims Holdings, a diversified Board of Investment (BOI) approved company opened its futuristic modern warehousing complex at Mulleriyawa yesterday.

The brand new facility is built on a 4.5 acre land with a total investment of Rs.2 billion.

Along with modern office space this is the phase one of two stage mega projects that has a total storage capacity of 65,000 square feet.

The state-of-the-art warehouse has a host of new and high tech storage racking systems with computerised location allocations, loading/unloading bays with dock levelers which can handle four 40 feet containers at same time and ample parking facilities.

Maxim Holdings Private Limited Chairman Dr. Saman Weerasinghe noted that in this day and age storage needs can be complex and the space a company needs for warehousing and the management of its inventories may be highly specialised.
."Warehouse operations are basically about the speed and accuracy with which every customer's order gets fulfilled. Since people wish to do business with those they trust, and everyone wants 'everything instantly all the time, warehouse operations directly affect an organization's perception, performance, and profitability.

With long years of successful history in business, Maxim Holdings (Pvt) Limited has developed this warehouse complex at Old Road, Mulleriyawa with the prime objective of renting out the facility keeping all these in mind," Dr. Weerasinghe said.

This state-of-the-art warehouse facing the Colombo-Avissawella low level road is on a prime location having easy access to Colombo city and Colombo port.
Most of the tea processing and exporting companies are having their processing and warehousing facilities in this area along the main road.

Dr. Weerasinghe said that closer such operations are to population centres, the less it costs the retailers and the faster and more competitive they can be in courting cost-conscious shoppers who yearn for bargains and free shipping.

Maxims' revolutionary warehouse complex is designed for Maxim's main office, tea processing, packing and warehousing.

Maxims is currently exporting value added tea through its tea exporting arm, Euro Asia and has been awarded many local and international awards for its business activities.