---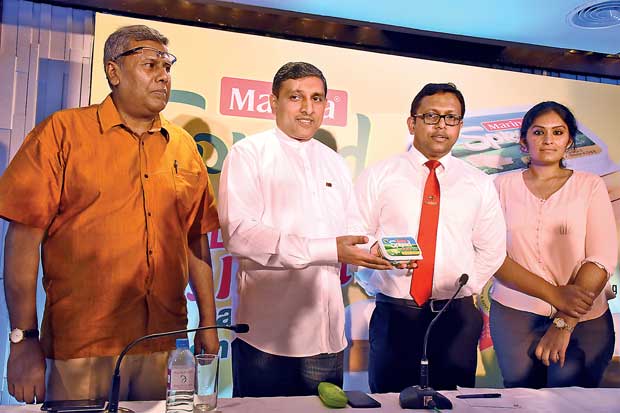 By Zahara Zuhair
To further strengthen its presence locally as well as internationally, Marina Foods (Pvt.) Ltd, a member of NMK Holdings, recently reintroduced Marina Spread with a new look to be on par with the international standards.
The company, which exports its products to over 40 countries including Europe, the Middle-East, USA, Japan, etc., said that it would continue to introduce more new products.
"The main product for oversees market is virgin coconut oil. We are exporting quite a bit of quantity because we are one of the main exporters from Sri Lanka," Marina Foods Deputy General Manager Denzil Perera said.
"We have five production facilities in Sri Lanka. The main one is in Ja-Ela for fats and margarine. Another one is in Kurunegala for virgin coconut oil and for coconut milk. We have one in Dankotuwa also. All five factories don't engage in export as some produce raw materials to the other factories," he said. He said that they have their own sources of getting the coconuts for the production, noting that they buy 75,000 nuts daily.
He added they recently came up with the coconut spread product to cater to the international market.
"It is like butter made from coconut oil. It is basically sent to countries such as Australia. We won awards as well for this as an innovative product," he said.
"People who said coconut oil is bad started drinking coconut oil because of us. Today they are drinking virgin coconut oil as a health supplement. We have certifications from different countries such as the USA and Japan as an organic product," he added.
The special features of the new Marina Spread as noted were: it has a modified packaging, foil sealed and improved spreadability.
Talking about the product, Product Manager Lakshika Udawatta said that it is 100 percent vegetarian and it is cholesterol free.
"The difference with margarine is, when it comes to margarine, it has 80 percent of fat. But our fat-spread has only 60 percent of fat, which is needed for a balanced diet," she said.
"We have been in the market for some time. What we have done is improving the existing product. We wanted to do a 360 degree change from the packing to the product," she said.
When it comes to exporting, she said that they have separate buyers and according to their requirements they manufacture the product.
While striving to bring the best quality products for the health-conscious customer, it was noted that the company also uplifts the standards of the farmers in Sri Lanka by purchasing their products as raw materials.
Marina Foods (Pvt.) Ltd is a fully Sri Lankan-owned company whose primary business focus lies with supplying the domestic market with high-quality edible oil, fats and margarine to consumers, bakery trade, industrialists and hotel and restaurants.
Its product portfolio includes virgin coconut oil, physically refined coconut oil, sunflower oil, soya oil, vegetable ghee, fat spread, bread fat, yeast, etc.