---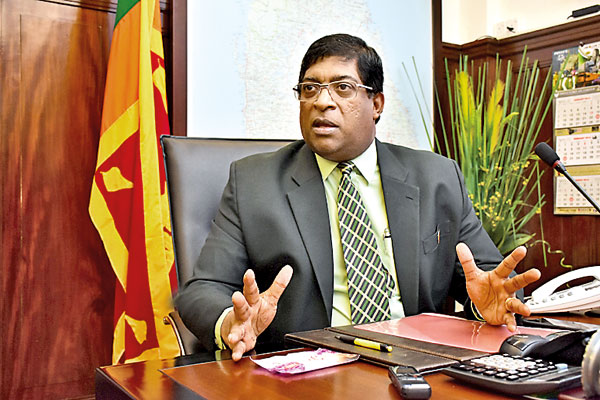 Similar to the unidentified Belgian investor who is parking US $ 1 billion in deposits, there are "many more" ready to help Sri Lanka to defend its currency and bolster its reserves, according to Finance Minister Ravi Karunanayake.

Despite his 'no question asked' approach to inflows to the country has received a lot of flack from media, economists and corruption watchdogs alike, Karunanayake says these deposits will replace loans drawn at high interest rates.

"Why do you want aid when you can trade? Trade should substitute aid. Likewise why do you need loans, when you can have deposits? When deposits come, your reserves go up," Karunanayake said during an interview with Mirror Business.

According to him, foreigners flocking to park their money in Sri Lanka, is an endorsement of the Sirisena-Wickremesinghe economic policies.

"Nobody basically has any corrupt motive because we are a clean government. So nobody runs after 6 percent loans when you can attract foreign deposits for one or two percent."

Responding to the critics of his 'no questions asked policy,' Karunanayake assured that proper local and foreign guidelines in relation to 'know your client (KYC)' are being followed when inflows are allowed into the country.

"No money would come into the country without KYC. Those who criticize us should know better," he asserted.

Another criticism levelled at this policy was the possibility of hot money moving into the country.
"In a world of cold climate where the economic turbulences are there, hot or cold money is not the answer.

The hot money, yes it is movable. But it is our policy that will make it stay," Karunanayake said.
"We thank those people, we salute them. We'll ensure that all the protection given in the KYCs and we want more of those moneys coming in," he added. The minister further said the Sri Lanka could also expect inflows from countries in the European Union, Japan, China, Korea, India, and the USA during this year.

"Our foreign policy is based on 'friends with all, enemies with none'. That's the approach we want to take," he said.

Sri Lanka's rupee against the US dollar depreciated over 9 percent in 2015. The Central Bank in latter part of January 2016 said the rupee appreciated 0.1 percent.

Higher foreign debt, lower exports income and current global economic headwinds, particularly stemming from imbalances in the Chinese economy, have negatively impacted Sri Lanka's economy.

The country is currently in talks with the International Monetary Fund (IMF) for possible BOP support.