---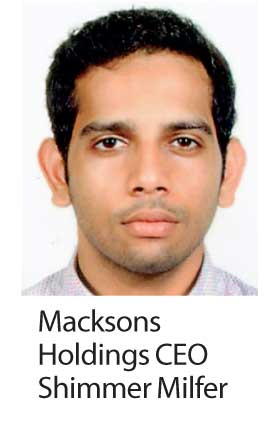 Mans Lanka (Pvt.) Ltd, a subsidiary of Macksons Holdings Group of Companies, has been appointed as the sole agent in Sri Lanka for the distribution of Godrej locking solutions and systems as well as Bajaj fans. .

This signifies a new phase for growth for both Bajaj fans and Godrej locking systems in Sri Lanka and one which will elevate the market position of both leading brands.
"We are happy to have partnered with Godrej locking solutions and systems and Bajaj fans here in Sri Lanka," said Macksons Holdings CEO Shimmer Milfer.

"We believe this new partnership heralds a host of new opportunities for both companies and are excited at the prospect of reaching out to a bigger client base now in Sri Lanka."
Godrej Locking Solutions and Systems is a 119-year-old Indian leading manufacturer of innovative locking devices. Since its inception the name has been synonymous with trust, protection and integrity. Godrej locking solutions and systems adhere to global quality norms and hold ISO 9001, ISO 14001 and OHSAS 18001 certifications.

With exports of Godrej locking solutions and systems spanning across various countries, the brand has come a long way in delivering world-class locking solutions. Now with its presence in Sri Lanka through Mans Lanka, the local retailer envisions that the Godrej locks and solutions systems will be equally sought after here.

Meanwhile, Bajaj is one of the oldest business conglomerates in India with 25 companies under the parent company. With a mandate of continuously exploring and creating new products through new ideas and latest technology, Bajaj has a range of fans from exhaust fans to ceiling fans.

A subsidiary of Macksons Holdings Group of Companies, Mans Lanka is a premier importer and distributor of hardware products, agriculture tools and equipment, power tools, electrical accessories and utensils carrying world-renowned brand names. It also imports the famous Chillington Crocodile Agricultural Tools a product that has been very popular in Sri Lanka for over a century.

Other key brands imported by the company popular in Sri Lanka's market include Men Extra power tools, Glitorium, which boasts of a wide range of premium quality locks and door handles in a variety of designs; Pakfan, a popular and fast-moving brand of ceiling fans and exhaust fans at affordable prices, English abrasives and over 3000 products of general hardware and building materials for real estate housing and construction.