---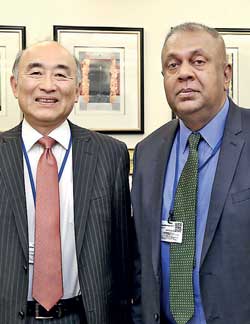 Minister of Finance and Mass Media Mangala Samaraweera while attending the WB/IMF annual meeting in Washington at the conclusion of the meeting called on Mitsuhiro Furusawa, Deputy Managing Director of the IMF and held discussion on matters of mutual interest.

Furusawa joined the IMF after a distinguished career in the Japanese government, including several senior positions in the Ministry of Finance in recent years.

Immediately before coming to the Fund, he served as Special Advisor to Japanese Prime Minister Shinzo Abe and Special Advisor to the Minister of Finance. Among his recent ministry postings, Furusawa served as Vice Minister of Finance for International Affairs (2013-2014), Director-General of the Financial Bureau (2012-2013), and Senior Deputy Director-General of the International Bureau (2009-2010).

Secretary, Ministry of Finance and Mass Media Dr. R.H.S. Samaratunge and Governor, CBSL Indrajith Coomaraswamy were also present at the occasion.