---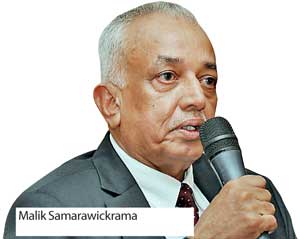 A senior government minister requested the ageing corporate leaders to make way for younger generations to engender innovation and entrepreneurship, but did not seem keen to apply the same logic to the country's political sphere.

Development Strategies and International Trade Minister Malik Samarawickrama blamed the ageing corporate leadership for the lack of entrepreneurship in the country.
"I'm aware that there is a lack of entrepreneurship in the private sector, particularly in the recent past, perhaps because most of the people who are at the top of the corporate ladder have been there for a while, and they're about to retire, so they must be comfortable with where they are," he said.

Sri Lanka's exports have declined to 15 percent of Gross Domestic Product (GDP) in 2015 from 36 percent in 2000, due to a growth strategy focusing on debt-fuelled infrastructure development, while the corporate sector has been more than willing to lobby for mercantilist policies.
Those who had benefitted from such policies until now are coming across as Luddites and are calling for the nullifying of advantages enjoyed by disruptive technologies and business models championed by younger generations.
"What I would like the private sector particularly is to encourage the younger people. Give them opportunity. They're our future," Samarawickrama, who himself is a veteran corporate figure, said.
He noted that the rest of the world, and particularly, the rest of Asia, is progressing rapidly, and Sri Lanka needs to catch up with new ideas.
"I would like the next generation to take the lead and come up with the ideas. It can't be business as usual. If it's business as usual, we're not going to go anywhere. We've got to think new, think out of the box and certainly come up with new ideas," he said.
He noted that with the incentives provided in the recent budget, the private sector has to step up as the engine of Sri Lanka's growth.
However, Samarawickrama did not mention what role younger generations could play in policy making, or whether older politicians should retire and make way for youngsters.
Though, he did invite the retiring corporate figures to take part in the public sector. "And at the same time may I invite particularly those who are about to retire, leaders of the corporate sector to please join us, join the government in some form, maybe to help us to undertake some of the major projects we are going ahead with. We invite you to come and help us deliver," he said.
Samarawickrama, who had entered into parliament through the National List, also invited the retirees to take up a political career.

"And all those who want to, some of you may also want to come to parliament, so you're most welcome," he said.
Many parliamentarians in the unity government's majority party, the United National Party, of which Samarawickrama is the Chairman, have corporate backgrounds.(CW)