---

Chief Guest Malik Samarawickrama, Guest of Honour World Bank Country Director Idah Z. Pswarayl-Riddihough and keynote speaker Prof. K Kumar being welcome by CA Sri Lanka's President Lasantha Wickremasinghe, Vice President Jagath Perera, National Conference Committee Chair Tishan Subasinghe, Technical Committee Chairperson Anoji De Silva and CEO Aruna Alwis
Minister of Development Strategies and International Trade Malik Samarawickrama has called on professional organizations to take the lead in the journey towards shaping Sri Lanka's future.
Addressing the inauguration of the 37th National Conference of Chartered Accountants, Samarawickrama, who was the chief guest said that the world we are living in is very different and therefore it needs 'unleashed thinking.'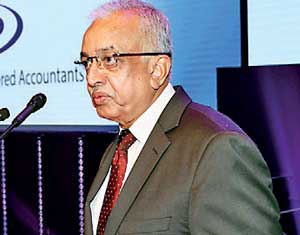 "We are at the beginning of a revolution that is fundamentally changing the way we live, work and relate to one another. A paradigm shift is underway in how we work and communicate as well as how we express and inform ourselves. Equally, governments and institutions are being reshaped as much as in health care, transport, among other sectors," he told the gathering comprising of top business leaders, decision makers and renowned accounting and finance professionals.
Samarawickrama said that the changes are historic in terms of size, speed and scope, and therefore governments, business academia and civil society has the responsibility to work together to better understand the emerging threats facing all stakeholders.
"Clearly, the challenges as daunting, as much as the opportunities are compelling – together we have to work to transform these challenges into opportunities by adequately and proactively preparing for the effects and impacts," he said.
Samarawickrama said that even though the world is fast changing, and becoming ever more complex and more fragmented, there was still opportunity to shape the future which will benefit all.
"The window of opportunity for doing so is now. But, it cannot be business as usual, for both the public and private sector. We have to think new and think out of the box and encourage young people to come up with new ideas by innovating and taking maximum use of technology. Your institute and other professional organisations need to take the lead in this regard," he told the forum, which was organized by the Institute of Chartered Accountants of Sri Lanka (CA Sri Lanka).
President of CA Sri Lanka, Lasantha Wickremasinghe said that development is not only a government's responsibility, and as stakeholders of a country, each and every one has an important role to play in supporting the government's initiatives, and thereby contributing towards the longer term vision of Sri Lanka. "We all envision a better future for Sri Lanka, but a country's success always depends on its people, their vision, hard work, and commitment. The journey to be better cannot be achieved overnight, and it is a systematic process, which can be achieved when all stakeholders come together with a vision," he said.
Wickremasinghe also said that to be better, a country and a corporate has to re-strategize, break barriers and go beyond conventional norms. "We can attract the best if we offer the best. We can't expect the best by remaining mediocre. This is why we need to innovate and re-strategize," he added.
Speaking at the event, Chairman of the National Conference Committee Tishan Subasinghe said that the conference which is one of the most sought after corporate level events in Sri Lanka, has progressed from a technically centric event to become a more business oriented conference, which focuses on contemporary business issues, which could be of interest even to non-accountants.
Speaking on the theme of the conference 'unleashed thinking' Subasinghe said that Sri Lanka at this juncture needs good accountants as well as many entrepreneurs. He said that the conference was considered an important platform to help accountants to build up their entrepreneurial instincts.
Technical Committee Chairperson Anoji De Silva said that innovative entrepreneurship could be one of the key drivers to make Sri Lanka a successful nation.
Detailing the technical sessions of the three-day event, she said that the main aim of the conference was to promote an innovative entrepreneurship and intrapreneurship culture in Sri Lanka, while also ensuring entrepreneurs and established market-leading companies are ready to face threats from disruptive technologies and disruptive workforces. She also said that conference aimed to encourage governments and policy makers to establish an environment that enable an 'innovation-driven' economy.