---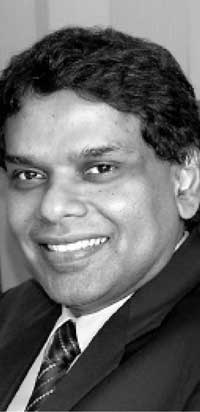 With immediate effect, Ravi Jayawardena has been appointed as a Group Chief Executive Officer of the Maliban group that consists of Maliban Biscuits (Pvt.) Ltd, Maliban Milk (Pvt.) Ltd and Maliban Agro Ltd.

Prior to this, he worked as a CEO Sales and Marketing for about eight years. Jayawardena was one of the key members in the senior strategic management team, which transformed the business from US $ 60 million to US $ 200 million per annum in five years.

Prior to that, he was Country Head of Sales at Coca Cola Sri Lanka, where he led the Coca Cola Sri Lanka team to win several Asian and African 'Best Practice Awards'. Furthermore, he had a short operational stint in Coca Cola South Africa and Coca Cola Vietnam.

Jayawardena had a unique opportunity of being selected to 'Develop the Marketing Blue Print' for Coca Cola South Africa (Port Elizabeth division) among 25 top-end marketers from the Coco Cola fraternity.

Jayawardena started his professional carrier at Unilever Sri Lanka Ltd, where he held several senior management positions in sales and marketing covering home and personnel care, detergents and foods in brand, category and sales management.

He has received special customer management training from Ashtridge University (UK) and worked short stints in Dubai and Thailand to share best practices for Unilever 'modern trade' channel.

Jayawardena received his MBA from the Postgraduate Institute of Management – Sri Jayewardenepura (Sri Lanka) and Diploma in Marketing from Chartered Institute of Marketing – UK. He has been a leading MBA/CIM lecturer for the last 15 years.

He is the only Sri Lankan in the Glendenning Consultancy Group – (UK) and has conducted training in Malaysia (for Regional Unilever programme), India (British Petroleum on value selling) and Bangladesh (Unilever Modern Trade team)

In 2013, Jayawardena was selected to deliver a speech on 'Effectiveness in Thematic Advertising' at the prestigious world-class Cambridge University in the UK, at its annual 'Business & Economic Forum'.

Analysing his immense contribution to the professional world and society, the Postgraduate Institute of Management Alumina (PIMA) awarded the prestigious 'Platinum Honours' to Jayawardena in the year 2014.

In the year 2015, Jayawardena was awarded the prestigious Golden Globe Tigers Leadership Award for Excellence in Marketing and Brand Leadership in Malaysia by CMO Asia. In the year 2016, he was honoured with 'People Leader in Marketing 2016', awarded by the Institute of Personnel Management (IPM).