---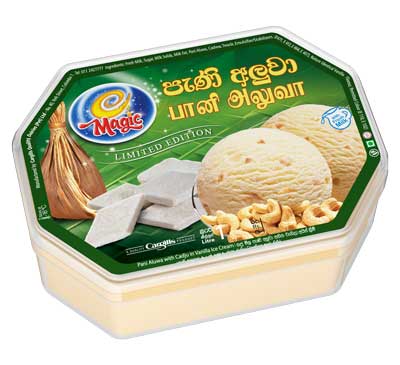 Magic, Sri Lanka's No. 1 dairy ice cream, has once again unveiled its 'limited edition' surprise for the upcoming Sinhala and Tamil New Year season.
Magic 'PaniAluwa' promises to be an authentic Sri Lanka ice cream treat that would bring the festive flavour to your homes this traditional New Year. The Magical new year treat is packed with crunchy cashew nut and real 'panialuwa' chunks folded into rich creamy vanilla ice cream made with real fresh milk.

Commenting on the festive collection, Magic Senior Brand Manager Teresa Santos said, "Our Magic Limited Editions products are all about extra special exciting experiences. And what better time than this season to truly bring that experience to our customers with special products that embody the spirit of the festivity."

She added, "Innovation is our edge and today we have a wide variety in our main range."
The 'Magic' seasonal products are in addition to our regular range which has come to be the most loved collection of ice cream in Sri Lanka. It goes without saying that all our ice cream is made from pure fresh milk sourced from thousands of smallholder dairy farmers. So your ice cream treats are also always packed with nutrition and brings value to rural communities," she added.

Cargills Director Dairy Production Nimal Pathirana noted that the success behind previous festive editions inspired the team to experiment with a new traditional sweetmeat.
"Last few years we worked with kokis, thalaguli and coconut and jaggery and all of these variants were well accepted. This year our innovations team worked on several new options before cracking the 'PaniAluwa' sensation. We never let out a variant unless we perfect it," Pathirana said.

"Magic remains the most innovative brand of ice cream in the country. We take great pride in combining our modern production facilities with our passion for innovation and quality which together with our close relationship with thousands of local dairy farmers forms a truly magical experience for millions of consumers islandwide," concluded Pathiarana.