---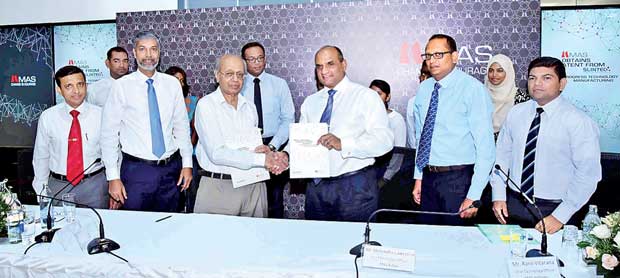 SLINTEC Director Dr. Nihal Vitharana (left) and MAS Active Chief Executive Officer Shirendra Lawrence exchanging the MoU while other senior officials of MAS Holdings and SLINTEC look on
Pic by Samantha Perera
By Shabiya Ali Ahlam
Sri Lanka's apparel manufacturing giant, MAS Holdings, yesterday reached yet another milestone having acquired its first intellectual property (IP) from a Sri Lankan institute, where the concept, from bench to market, was originated and researched locally.
With the company having its roots deeply embedded in the belief that greater heights can be achieved through partnerships, MAS obtained a high-tech patent from the Sri Lanka Institute of Nano Technology (SLINTEC), an entity which is a public-private partnership (PPP) between the government and five leading private sector leaders.
The said technology is a result of one-and-a-half years of research and development (R&D) conducted by the SLINTEC and was conceptualized to create superior drying rates for a sportswear fabric through high-tech functional coating.
The project that was executed by the SLINTEC and funded by MAS is said to have resulted in an "outstanding solution with built-in simplicity of application and thereby making in economically viable," according to the senior officials of both the institutions.
While MAS differentiates itself through innovation led by R&D, MAS Active Managing Director Shirendra Lawrence stressed that the company's decision to take a fresh look at innovation has allowed it to enjoy its status as one of the most innovative apparel manufacturers in the global landscape. Acknowledging it is becoming increasingly challenging for Sri Lanka to compete on the price factor with its peers such as India and Bangladesh, officials stressed it is relevant to compete on technology.
"What we can do is to compete via technology and over the last few years we have significantly increased our investment in innovation. We are reaping the benefits of that move," said Lawrence. Reflecting similar sentiments, MAS Holdings Chief Technology Officer Ranil Vitarana shared the entity will continue to work with the SLINTEC and other local research institutes to introduce innovative products to the market and enhance Sri Lanka's technological research capabilities.
"We must use our local capabilities to position Sri Lanka as a hub in this sphere," he asserted.
Meanwhile, it was also highlighted that by mid-2017, MAS is set to obtain another patent from the SLINTEC.
MAS currently works with over 30 universities globally, including top-tier universities such as the Massachusetts Institute of Technology and Stanford University.
Determined to uplift the local R&D space, over the years MAS has focused on the Sri Lankan high-tech research institute, utilizing the local talent pool to facilitate faster scientific discoveries.
MAS Holdings is a US $ 1.6 billion apparel manufacturer, where trusted industry experience meets cutting-edge expertise.
Headquartered in Sri Lanka, the manufacturing footprint of MAS comprises of 60 state-of-the-art facilities located in 15 countries and employees over 83,500 associates.