---
Dec. quarter earnings up 54% to Rs.678.5mn
Net finance cost down 1% indicating easing of interest rates

After several depressing quarters, diversified conglomerate, Hayaleys PLC has reported healthy earnings for the quarter ended December 31, 2019 (3Q19) amid significant cuts in cost of sales despite a sizeable drop in sales.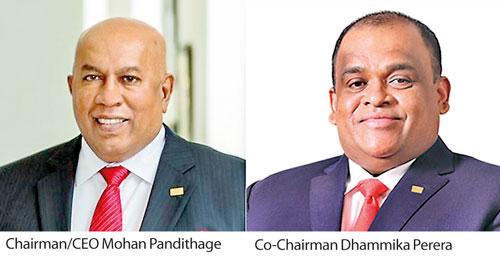 Hayleys recorded consolidated earnings of Rs.9.05 per share or Rs.678.5 million for the quarter under review compared to earnings of Rs.5.86 per share or Rs.439.4 million reported for the corresponding quarter of the previous year.

This translates into 54 percent year-on-year (YoY) growth in net profits.

The revenue for the period fell 7 percent YoY to Rs.55.2 billion while cost of sales fell 12 percent YoY to Rs.40.5 billion, resulting in a gross profit of Rs.14.2 billion, up 8 percent YoY.
Hayleys cited ongoing investments in lean initiatives and process efficiencies as the key reasons behind the significant reduction in group operating expenses.

The operating profit of the group rose 15 percent YoY to Rs.5.2 billion.

The net finance cost for the quarter under review fell 1 percent YoY to Rs.2.71 billion, reflecting the gradual decline in interest rates.

Meanwhile, for the nine months ended December 31, 2019, Hayley group recorded earnings of Rs.1.85 per share or Rs.138.4 million compared to earnings of 46 cents or Rs.34.8 million reported for the same period last year.

The group revenue for the period fell 1 percent YoY to Rs.160.6 billion, reflecting the subdued performance of the group's leisure, transportation and consumer & retail segments.
Purification, textiles, hand protection and industry inputs segments recorded top line growth.

"Improvements in the core performance of key sectors, particularly across export-oriented business lines is reflected in the 9 percent increase in Consolidated Earnings before interest, tax, depreciation and amortisation (EBITDA) to Rs.16.3 billion during the period," Hayleys said in a statement.

The cost of sales for the nine months fell 4 percent YoY to Rs.120.9 billion. The group operating profit rose 9 percent YoY to Rs.12.3 billion. The group net finance cost rose 9 percent YoY to Rs.8.4 billion. As at December 31, 2019, Hayleys group had Rs.51.5 billion interest bearing borrowings, up from Rs.43.3 billion a year ago.

Hayleys PLC Co-Chairman Dhammika Perera holds 51.01 percent of the company. The Employees' Provident Fund also has 5.04 percent stake in the company being its third largest shareholder.