---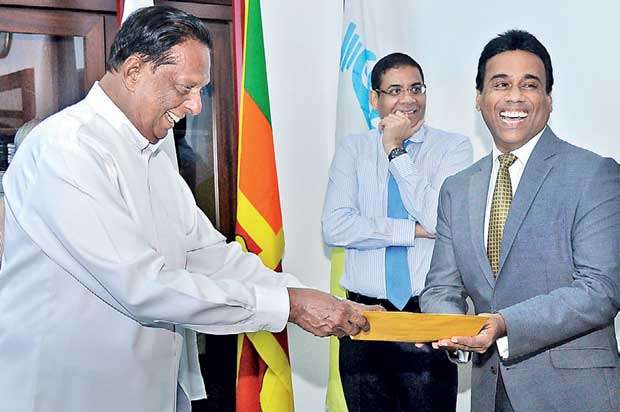 Tourism Development, Wildlife and Christian Religious Affairs Minister John Amaratunga hands over appointment letters to Kishu Gomes in the presence of Tourism Development, Wildlife and Christian Religious Affairs Ministry Senior Advisor Dinesh Weerakkody
Pic by Nisal Baduge
SLTPB board approval secured for detailed plan of campaign
Kishu Gomes appointed as head of both SLTDA and SLTPB

The Tourism Development, Wildlife and Christian Religious Affairs Ministry is preparing to present the detailed plan of the long-delayed Rs.3 billion global promotion campaign to the Cabinet shortly, after incorporating the views of corporate personality Kishu Gomes, the newly appointed Chairman of the Sri Lanka Tourism Promotion Bureau (SLTPB) and Sri Lanka Tourism Development Authority (SLTDA).
Tourism Development, Wildlife and Christian Religious Affairs Minister John Amaratunga yesterday handed over the appointment letters to Gomes.
At a gathering, last week, Gomes was scheduled to be appointed only as Chairman of the SLTPB, while industry figure Ranjit De Silva was scheduled to take over as Chairman of the SLTDA.

However, Prime Minister Ranil Wickramasinghe ordered Amaratunga to postpone the appointments at the eleventh hour, as he needed more time to study the suitability of the nominees for the posts.

Amaratunga said Wickremesinghe wanted to have better coordination between the two key bodies, hence, instructed to appoint Gomes to head both bodies, amalgamating the two intuitions.

Speaking to media, Gomes said that he would announce his plans for the SLTDA and SLTPB in a short while.Speaking to Mirror Business, SLTPB Acting Managing Director Dushan Wickramasuriya said the detailed plan recently received the approval of the board of directors of the SLTPB.

However, he said it would be unlikely to launch the campaign at ITB Berlin this March, as originally planned and instead, it might get pushed to be launched at Arabian Travel Market in Dubai, in late April.

Mirror Business learns that the industry representatives on the board of the SLTPB however are insisting at least part of the campaign to be launched at ITB Berlin, pointing out that the campaign will be able to gather momentum, being launched at the world's largest tourism trade fair.

The three-year campaign will focus on promotional activities of Sri Lanka's key tourism source markets, which have a minimum of 50,000 arrivals per annum.
Accordingly, the campaign will be launched in India, China, Germany, France, the UK, Australia, Benelux and Russia.

After securing the Cabinet approval for the detailed plan, the SLTPB plans to call for requests for proposal from advertising agencies to carry out the campaign.
Wickramasuriya said the advertising agencies would have to include the mixture of media platforms that the campaign should be carried out in their proposals.
Sri Lanka tourism expects to achieve three million tourist arrivals and US $ 5 billion in tourism earnings this year, with a special focus on Sri Lanka's largest tourism market India.

(NF)