---
Says SL has potential to make big difference in SA region
Points out that security and trade are now complementary concerns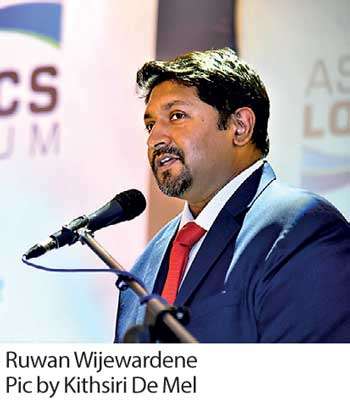 By Shabiya Ali Ahlam
Sri Lanka's striving logistics industry was yesterday advised by the government to take up a more proactive role in pushing the industry forward and overcoming prevailing challenges by capitalizing on the country's strengths, so that the island nation can realize its aspirations of being a well-established and interconnected logistics hub. The government in the recent years has stressed the importance on the need of becoming a logistics hub by making the most of the country's location. However, tight controls and half-hearted moves towards liberalization of the industry continue to remain as key hurdles in realizing those aspirations.
"Sri Lanka has the potential to make a big difference in the logistic scenario in South Asia. All it needs is a dynamic leadership and farsightedness by the industry to achieve greater integration," State Minister of Defence, Ruwan Wijewardene told the Asia Logistics Forum 2018 held in Colombo, yesterday.

While stressing it is the role of the industry to work towards and be the engine of growth, he added they should work on promoting it to the global operative space.
Wijewardene opined that the logistics industry should capitalize on the country's ICT capabilities and hospitality to make a "powerful impact" in the region.

Meanwhile, the State Minister said the government is "mindful" of the new developments in the international logistics landscape and is looking at keeping up with new technology, capabilities, inventory management, and tracking and delivery systems, alongside meeting "global customary requirements".

Touching on the defence aspect, Wijewardene noted that while the importance of Sri Lanka's geo-strategic location in terms of security and local trade has already dominated the internal discourse, the upsurge in economic activity in India and China, coupled with their interest in security concerns, and China's Belt and Road initiative have made "security and trade complementary concerns and are manifested at a higher threshold."