---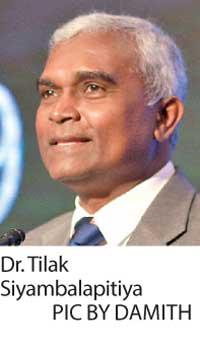 A local energy expert pointed out that the repeated mishaps in the energy sector are largely man-made and easily predictable.

While nothing that climate change too has a role to play in the crisis the country is faced with, Resource Management Associates Managing Director Dr. Tilak Siyambalapitiya implied that Sri Lanka is doing rather poorly in this regard, compared to its regional peers. "The disaster we are faced with in the energy sector is largely man-made and is easily predictable. It is a man-made crisis. The rest of the world, amidst a number of challenges, is managing their industry better than us," said the expert at a panel discussion, at Sri Lanka Economic Summit
2019, yesterday.
Sri Lanka's energy sector has a value of US $ 5 billion, out of which electricity is US $ 1.2 billion and the balance is of the petroleum industry. According to Dr. Siyambalapitiya, the same productivity of the local sector can be achieved at a cost of "at least US $ 1.2 billion less.

"On the end user aspect, we have a lot more to do to ensure our energy supply and consumption is moving towards sustainability goals. To point out an example, the public transport sector is shrinking.

Twenty five years ago, over 80 percent of the population travelled via public transport, today it is less than 50 percent," he professed. Dr. Siyambalapitiya stressed that a lot is to be done to ensure that the local energy sector booms on the supply side, whereas on the demand side, meet the challenges of the future.

However, he mentioned that all is not lost in the local energy space, since the per capita consumption is less when compared with the countries having similar levels
of economic development.

"So, we are an energy-efficient economy despite the difficulties," noted Dr. Siyambalapitiya.

The government is aiming at becoming an energy self-sufficient nation by 2030. The objective is to increase the power generation capacity of the country from the existing 4,043 MW to 6,900 MW by 2025, with a significant increase in renewable energy. Sri Lanka has already achieved a grid connectivity of 98 percent, which is relatively high by South Asian standards. (SAA)