---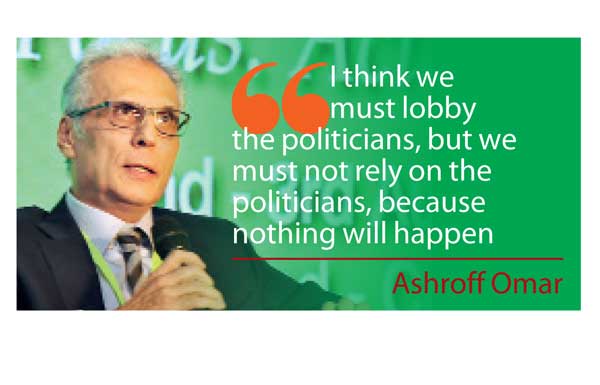 Continuing the trend of criticism that the government received from the economists on the first day of the Sri Lanka Economic Summit, one of Sri Lanka's top apparel manufacturers said that the private sector cannot rely on the government to create a better business environment.

"I think we must lobby the politicians, but we must not rely on the politicians, because nothing will happen," Brandix Lanka Limited CEO Ashroff Omar said during the second day of the event organised by the Ceylon Chamber of Commerce.

He noted that the impressive policy speeches given by the politicians must eventually be converted into action in order to raise confidence.
"I'm very sceptical—maybe because of the age—that the ideas are good; but unless they are put into action and implementation is followed," he pondered.

The government has admitted that there is too much state sector involvement in the economy and that the private sector should be given more freedom. Finance Minister Ravi Karunanayake at the Economic Summit charged that the private sector was risk averse to investing in new ventures. Omar noted that the private sector desires to invest in programmes if the government is willing to partner with them, which was seen when US $ 35 million was committed to creating a private university during a round table discussion chaired by the Prime Minister's Senior Advisor Charitha Ratwatte.

"But it needs leadership. So we have to get together to make sure we have an immediate programme with which we can start implementing those steps by the end of this year. Otherwise, we will sit at the next year's forum and still discuss similar things," he said.

He noted that if such action is not forthcoming, all the time, money, brains and energy spent on creating plans will go to waste. The government has plans to create one million new jobs by 2020. However, Omar noted that the largest industry in Sri Lanka is the three-wheel taxi industry, which has over one million happily employed. (CW)