---
Sri Lanka Ports Authority commenced its support to the development of the tourism industry from Dondra.
"We could use lighthouses to promote tourism industry. We could initiate a procedure to strengthen the villagers by creating opportunities for them to
earn money.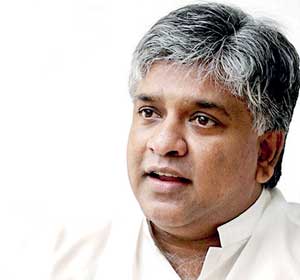 "We have planned to develop these lighthouses by bringing investors or through any other suitable method to uplift the living conditions of villagers and to provide them opportunities to earn money," Ports Minister Arjuna Ranatunga said opening the Dondra Head Lighthouse.
Resources and assets of the country should be used efficiently and effectively and that is a duty of general public, Minister
Ranatunga said.
"I am always standing against thefts and corruptions regardless of my camp, government or the opposition. My policy is to terminate thefts and corruptions. That is why we had to close the Dondra Head Lighthouse from public viewing. Now we have made corrections in that procedure. Even though Sri Lanka Ports Authority owns this lighthouse, sometimes we don't get any use of it. "Sri Lanka Ports Authority spends its own money on these developments. Construction of roads, buildings, schools and hospitals in this country are carrying out through money earned from you. Therefore you have the right to correct these procedures if there have been any misconduct occur. Thereby as the Sri Lanka Ports Authority, it has commenced to support the development of the tourism industry from Dondra. I'm happy about that," Minister Ranatunga added.
Deputy Minister of Ports and Shipping Nishantha Mutuhettigama, Chairman of the Sri Lanka Ports Authority Dammika Ranatunga and several other distinguished guests attended
this occasion.
Dondra Head Lighthouse was constructed in 1887 and it has a height of 49 metres. It is reported that tourists who visited this site had faced various difficulties in the
past period.
A special investigation was carried out in this regard in accordance with advice by the Minister Arjuna Ranatunga. Thereafter Minister Ranatunga advised to create a systematic procedure to visit the lighthouse
for tourists.
Chairman of the Sri Lanka Ports Authority Dammika Ranatunga who expressed views at this occasion said that special attention will be paid on the school children who visit this lighthouse. "Our primary concern is the security of the tourists.
Therefore permission has not been given to enter
the lighthouse.
In the future we will consider about the possibilities to visit the inside of the lighthouse. Meanwhile we have given our attention on the legal issues that we will have to face if any accident happens. We are trying to satisfy the demands of the general public," Ports Authority Chairman added.