---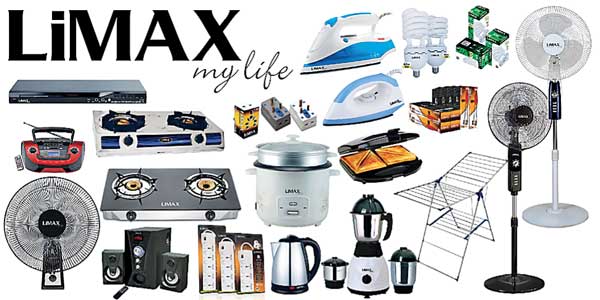 LiMAX is a well-known house-hold brand for all home appliances.

LiMAX is the brand name of NSW Ventures (Pvt) Ltd., incorporated as a private limited Company in Sri Lanka in August 2014. This company was founded by three persons who decided to venture out their skills with wide knowledge & experience in the fields of Administration & Finance, Strategic Planning & Sales & Marketing. They successfully faced the competition and today have become one of the largest Trading Houses in Sri Lanka to supply a range of high quality home appliances at affordable prices from international manufacturers. At the initial stages this organization had a few handpicked employees who are highly trained & qualified for the operation. The Company was located in a small store with close proximity to the main hub of highways enabling speedy deliveries to their island wide dealers. The Managing Director said that at initial stages it was difficult to negotiate prices as their order quantity was insufficient for negotiation and thereby unable to exercise any buying power.

At the beginning they confined Sales to locally manufactured items such as clothes racks, extension wire codes, TV antennas etc. Subsequently, expanded their product range to many items consist of stand fans, wall fans, electric jug kettles, dry iron, rice cookers, gas stoves, mixer grinders, emersion heaters, TV antenna, ironing boards, clothes racks, extension wire codes, high powered CFL / LED bulbs, vacuum flasks, sub-woofers, radios, DVD players, multi plugs, energy saving lamps, whistling kettle, sandwich maker etc. All these products are from selected international manufacturers having visited their respective factories which strictly conform to Sri Lanka Standards. The locally manufactured TV antenna is specially made to suite any part of the country with improved technology for clear reception. They also carry adequate stocks at any given time in order to offer an uninterrupted issue of goods to dealers & customers to avoid delays in supplies. The Company has already looked into the possibility of introducing agricultural hardware items and garden tools in the future.

The management team visits foreign Principals often to participate in international exhibitions. This has made them to meet new suppliers and manufacturers to explore new designs to meet the increasing demand for products. The sales team who has excelled in their performance is constantly developing close personalized relationships with the dealers' and customers. The technical staff is well trained and motivated to attend to customer needs with personalized efficient after sales service without delays. The distribution channels have been set to meet any demand in the supply chain to accommodate orders and make timely deliveries to all dealers' without delays.

At the dawn of the third year of operations, the company is planning to start manufacturing a selected home appliance with foreign collaboration. The Company hopes to launch into printing trade with the introduction of digital printing etc. These new ventures will contribute to the national economic growth & create additional job opportunities to people. The management keeps a close repo with employees so that discontented persons could solve their problems amicably by discussions. They believe in team work which has been strength for the current development. Company sponsored annual overseas tours are offered to the Sales Team for their enjoyment & relaxation. Further an annual trip is also offered to all categories of employees to keep their morale and satisfaction at the best. In view of the 2nd anniversary, the company has organized a series of religious programs where a pahan poojawa was held at the Ruwanweli Saya and Sri Maha Bodhi and hopes to have a similar religious event at Kiriwehera & Kataragama temple shortly.