---
Leomine Organics- one of the largest companies in India engaged in the production of textile dyes, pigment preparation, textile auxiliaries and water treatment chemicals has entered the Sri Lankan market by appointing Aster Smart International (Pvt) Ltd as the sole authorized distributor.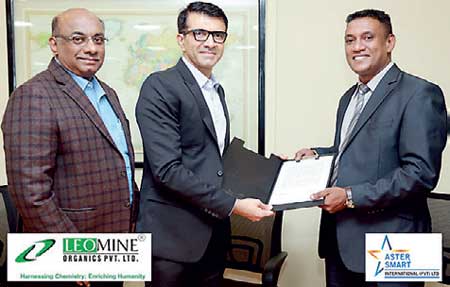 Leomine Organics Pvt Ltd. is part of the Vishal group of Companies in India focused on serving the textile industry. Established in the year 1976, it has provided its customers with its unbeatable products and services and is gaining a leading position
in the industry.
The company has its headquarters in Mumbai and is engaged in production of textile dyes, pigment preparations, textile auxiliaries and water treatment chemicals at its modern plants in udhna, surat in the state of Gujarat and Mahape in Navi Mumbai, Maharastra, India.
Leomine Organics is supported by competent marketing, R & D, technical and distributor team that has helped it to become a well-known player in the industry. The company believes in constant innovation based on its customer's needs and feedback and constantly strives to provide sustainable solutions via chemistry.
Group Head, Leomine Organics Vishal Sejpal summarized the future prospects of the Sri Lankan textile industry by saying, "Sri Lanka is poised for excellent growth in the near future given its advantageous geographical location in Asia and its strength in availability of resources that are vital for the textile industry to thrive. Leomine Organics, he said had big plans for business in Sri Lanka".
Currently, it has over 200 products for the textile wet processing industry and is continuously innovating new products in line with emerging needs of the industry. As a policy it manufactures eco-friendly products and follows a stringent ecology standard. All Leomine products conform to Oeko-Tex Standard 100 (2016) and The European Chemicals Agency. Many of its products are Global Organic Textile Standard (GOTS version 4.0) certified.
Leomine Organics philosophy is to strike a balance between economy, ecology and society in all its business endeavours. This approach has helped it to differentiate itself from other players in the industry and scale new
heights rapidly.
Leomine Organics together with Aster Smart International will showcase Leomine products and services for the textile wet processing industry in its stall (A34) at the 2016 Screen Print Sri Lanka exhibition at Sri Lanka Exhibition & Convention Centre, Colombo which will be held
from 1-3 of December.