---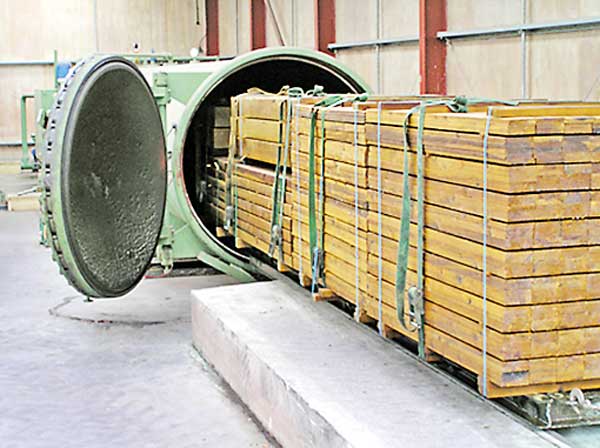 As another progressive act to service customers more vigorously, furniture specialist and the largest interior solution provider in Sri Lanka, Leema Creations has introduced a state-of-the-art pressure impregnation plant to its existing range of German and Italian machinery in order to provide sturdier wood furniture to customers.

The core intention of the company is to change the chemical treatment from existing traditional 'Dipping' to vacuum pressure impregnation through which the chemical is driven to the deepest point of the timber. This process guarantees the longest possible lifespan of any solid wood domestic or commercial furniture and doors, windows and frames.

Proper preservation is the single most important factor in wooden furniture manufacturing as wood is a renewable and natural material which is susceptible to attacks by fungi, micro-organisms and insects. In particular, when in contact with soil and water, wood is quickly affected and rots in most cases in a matter of years. Attacks by fungi also quickly occur in other places where wood is exposed to moisture. By being impregnated the timber is given a service life many times longer than that of untreated timber.

The introduction of chemical substances accurately into wood is done in order to improve characteristics and impart new properties. Impregnation stabilizes dimensions, increase strength and resistance to water and moisture and reduces cracking. Proper impregnation ensures protection against wood rot and other forms of biological deterioration.

Vacuum pressure impregnation in chemical treatment for dry solid timber in furniture manufacturing is the most successful method applied by the manufacturers throughout the world. In this method, the active ingredients are conveyed into the timber by means of solvents.
Wood preservative chemicals are introduced into the wood with the aid of pressure differentials. This provides the best and the deepest possible penetration, specifically for timber species which are difficult to impregnate. The impregnated surface layers function as a protective shell against wood destroying fungi or insects.

Together with chemical treatment, Leema offers kiln drying with three units of modern kilns controlled air drying of timber. Modern dry kilns allow tight control of air flow, temperature and humidity so that all the timber dries uniformly and to the precise moisture content required.
Kiln drying means a more uniform product and the problems often associated with poorly air-dried timber are avoided. Kiln-dried timber can be machined to a superior finish than air-dried timber and therefore problems such as raised grain are virtually eliminated. A combination of the two processes guarantees the highest quality timber whether the wood is used for loose furniture or for doors, windows and frames.
In conjunction with the vision of the company, as another stride to provide a better, hassle-free and a quality service, Leema has established a quick response desk where a customer is given a facility to place an order through an email of fax the timber requirement. As an additional facility, the company has established a fleet of vehicles to transport the order to customers' door step within the agreed time frame.
Being an ISO 9001:2008-certified organisation, Leema has shown a steady growth since the inception and is identified as an organisation which genuinely looks after the customers' interests. The manufacturing plant of Leema Creations currently is a one of the largest in Sri Lanka for furniture, catering to elite corporates and upper-middle and high-end domiciliary clients in Sri Lanka.
The 60,000 square foot facility located in suburban Colombo is one of the most advanced in Sri Lanka with a combination of computerized equipment with German/Italian precision and fine craftsmanship to ensure exact execution of detailed projects. In-house the plant possess timber drying kilns, a pressure impregnation plant for timber chemical treatment, a modern saw milling machine, etc., in addition to CNC machines and modern edge banding machines. It possessed a skilled and experienced staff of over 200 personnel including large number of skilled carpenters.