---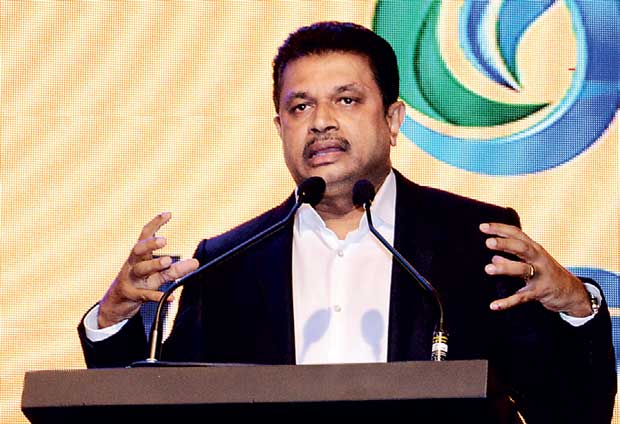 By Chandeepa Wettasinghe
Laugfs Holdings PLC is hoping to contribute significantly towards the government's 2020 export target of US $ 20 billion through its Hambantota liquid petroleum gas (LPG) terminal, a top company official said.
"In 2015, Sri Lanka's export earnings total was US $ 11.5 billion and the country expects by 2020 to increase this to US $ 20 billion. We alone, as a single company, will contribute 6 to 7 percent of that, once that terminal becomes operational on April 27, 2018," W.H.K. Wegapitiya said.
Speaking at a forum organised by the Shippers' Academy Colombo, Wegapitiya said that Hambantota would become the base of operations for the Asian economic boom, which will see consumption of LPG rising dramatically.
"India is consuming 20 million metric tonnes of LPG and by 2025 they will be consuming 40 million metric tonnes of LPG. Bangladesh will require five million and Myanmar two million metric tonnes. And likewise many others," he said.
Laugfs is one of the largest LPG suppliers in Bangladesh, with an ambitious expansion plan underway, while it is currently formulating plans to enter Myanmar.
The group last year started the construction of an LPG terminal in the Hambantota port, with the first phase, which would have a 30,000 metric tonne capacity with an investment of US $ 51.5 million, set to become operational in April 2018.
The second phase would add another 15,000 metric tonnes in capacity through an investment of US $ 28.5 million. Wegapitiya said that through this Laugfs would become the largest LPG import/export facility in the Indian Ocean rim and his company could supply LPG to markets through 13 ports West of Hambantota within two to three days of sail and 17 ports east of Hambantota within two to five days of sail.
The conglomerate is hoping to become a regional LPG distributor and has acquired three LPG tanker ships in the past three years – two with 3,500 metric tonne capacity and the remainder, which was registered this year, with a capacity of 3,000 metric tonnes.