---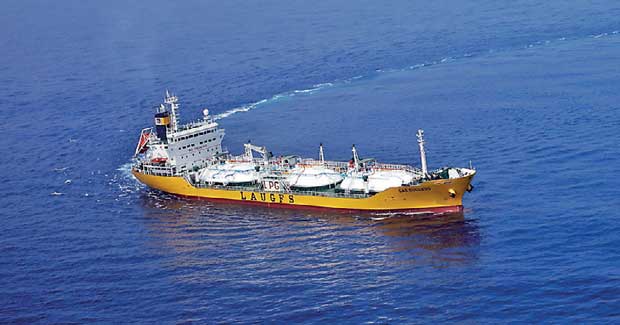 Diversified conglomerate Laugfs Holdings is set to mark another monumental milestone by being the first to register a vessel at the Hambantota Port, a company statement said. The announcement was made together with the purchase of another LPG vessel under Laugfs Maritime, in its plans to rapidly expand its vessel fleet.
This latest LPG carrier was acquired for an investment of over US$ 2.8 million, and is registered under the Sri Lankan flag as 'Gas Courage'.
"Being a conglomerate that takes pride in our Sri Lankan roots, we are extremely pleased to be able to register the first ship at the Hambantota Port," Laugfs Holdings Chairman, W.K.H. Wegapitiya said.
"We have been aggressively expanding our interests in the power and energy sector as part of our global expansion strategy. Our plans are to strengthen our vessel fleet to 20 carriers soon, to cater to the growing logistics demand within the region as well as by our own LPG operations in Sri Lanka and Bangladesh," he added.
'Gas Courage' is expected to expand logistic capabilities of Laugfs Maritime with another 3,000 metric tonnes of LPG capacity.
Laugfs is currently setting up one of the largest LPG import and export terminals in South Asia at Hambantota. The terminal, which is scheduled to be commissioned in 2018, is expected to support the growing LPG demand serving as a central storage hub for the region. Further, the energy trading arm of Laugfs, Slogal Energy DMCC, was set up last year with headquarters in Dubai.
Laugfs has also become the first Sri Lankan energy brand to become a multinational, with the acquisition of the third largest LPG distributor in Bangladesh, one of the most lucrative emerging markets for LPG in Asia.
"As a home-grown conglomerate, we take great pride in being able to register another vessel under our Sri Lankan flag," commented Laugfs Holdings Group Managing Director, Thilak De Silva.